Posted by: Loren Coleman on August 31st, 2008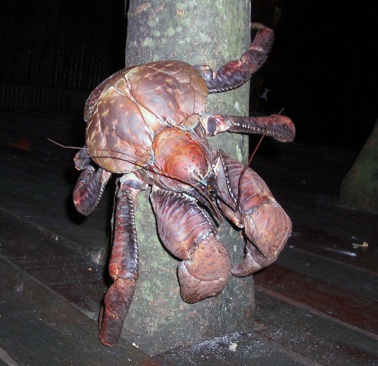 You think those hermit crabs on the beach are creepy? Take a look at their bigger cousin at top, the giant coconut crab (Birgus latro), the largest land-dwelling crustacean in the world. This highly apomorphic hermit crab is known for its ability to crack coconuts with its strong pincers in order to eat the contents. If you have any in your neighborhood, you usually know it.
On the news front, in August 2008, the current US administration proposed a ban on commercial fishing and mineral exploration on and around three large Pacific island chains. The Northern Mariana Islands, the Line Islands, and American Samoa are likely to be deemed protected areas, preserving a remote swath of biodiversity that might otherwise be destroyed.
Animals like migratory sea birds, sea turtles, and the huge coconut crabs will benefit from the designation, which comes just two years after similar protections were placed on the Northwestern Hawaiian Islands. The Papahanaumokuakea Marine National Monument was created as a national monument, barring fishing, oil and gas extraction and tourism from its waters and coral reefs. The area is the single largest conservation area on the planet.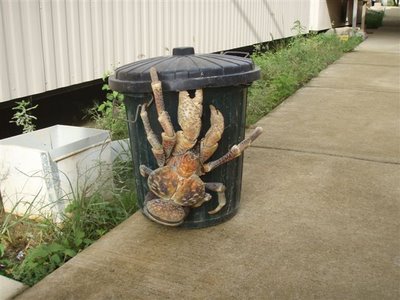 The coconut crab is also called the robber crab or palm thief, because some coconut crabs are rumored to steal shiny items such as pots and silverware from houses and tents.
The diet of coconut crabs consists primarily of fruit, including coconuts (Cocos nucifera) and figs (Ficus species). However, they will eat nearly anything organic, including leaves, rotten fruit, tortoise eggs, dead animals, and the shells of other animals, which are believed to provide calcium. They may also eat live animals that are too slow to escape, such as freshly hatched sea turtles. During a tagging experiment, one coconut crab was observed catching and eating a Polynesian Rat (Rattus exulans). Coconut crabs often try to steal food from each other and will pull their food into their burrows to be safe while eating.
No reports of them taking small children have been encountered, but coconut crabs are kept as pets in Japan. If a human is caught with a pincer, reportedly the crabs do not release their grip easily. However, some Pacific islanders have developed a special technique in which the underside of the crab is tickled so the crab will let go of its human victim.
The coconut crab climbs trees to eat coconuts or fruit, to escape the heat or to escape predators. It is a common perception that the coconut crab cuts the coconuts from the tree to eat them on the ground (hence the German name Palmendieb, which literally means "palm thief," and the Dutch Klapperdief). Coconut crabs cut holes into coconuts with their strong claws and eat the contents; this behavior is unique in the animal kingdom. Also, unique to this species among crabs, they smell with a nose. It is the only species of the genus Birgus.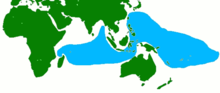 Charles Darwin believed the species was only found on "a single coral island north of the Society group." Today, it is understood to be widespread (map above) throughout the Pacific, although its range only became gradually known.
Loren Coleman – has written 5489 posts on this site.
Loren Coleman no longer writes for Cryptomundo. His archived posts remain here at Cryptomundo.