Posted by: Loren Coleman on August 25th, 2010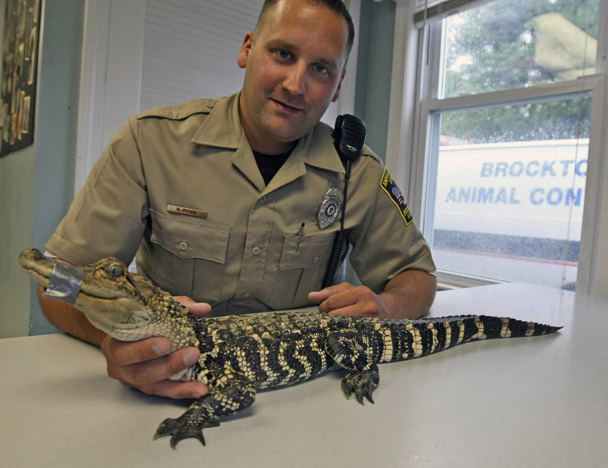 George Rizer for The Boston Globe
Brockton Animal Control Officer Brian Piche posed with the three-foot American alligator that was found crossing a city street early Sunday morning, August 22, 2010.
If you have been watching the comments section at Cryptomundo, you've seen that there's been an explosion of alligators being found throughout the USA. Also, word comes that two three-foot long Chinese alligators escaped from north of Avignon, France, and are roaming the countryside.
There has even been a sighting in Cyprus:
Wildlife experts in Cyprus are trying to verify reports that a crocodile is on the loose after a farmer says she got the fright of her life with it staring her in the face.

The August 4 sighting at a mountain village some 50 km west of the capital Nicosia has prompted authorities to set traps and bait to catch the runaway reptile, which is not indigenous to the Mediterranean island. "We have not found anything that suggests there is something there, but we will keep on looking," said Constantinos Moustakas of the Cyprus Fisheries and Marine Research Department.

The woman, who keeps rabbits and owns a small vegetable patch, was apparently gardening when she came across the reptile. It is unclear if it was an alligator, or a crocodile.
Indeed, the American situation has gotten so seemingly out of hand that regular news blogsites are taking note of the broad spectrum of incidents. Kyle Munzenrieder of Miami's New Times blogged about the gators turning up in New York City and Chicago recently. The alligator was the second one found in the Chicago River in a month.
Other recent finds have included crazy crocs being found in or seen in

Pallisade, Colorado, to name a few.
Loren Coleman – has written 5489 posts on this site.
Loren Coleman no longer writes for Cryptomundo. His archived posts remain here at Cryptomundo.