Posted by: Loren Coleman on July 28th, 2012
The Portland Press Herald for Saturday, July 28, 2012, had a weirdly headlined article on Page One, to greet my morning:
Okay, I said to myself, I'll read this to see what Doonesbury has to say about Maine politics. You can imagine my surprise when I found Sasquatch in the story.
Here is the section of the article that specifically deals with our area of interest here:

The strip begins with Jimmy Crow saying: "Here in Maine, folks love to vote! They're tops in turn-out!"
In the second frame, Crow says: "Sadly, too many of them (voters) are Democrats, who like to 'steal' elections, according to GOP chair Charlie Webster." Below the text are anonymous figures representing the elderly, disabled people and college students, groups that could be disenfranchised by voter ID laws, according to critics.
The comic then mocks claims by Webster and other Republicans who argue that voter ID laws are designed to prevent voter fraud. It mentions that Maine has had just two convictions for voter fraud over the last 38 years.
The convictions, the strip says, is the "same number of confirmed Bigfoot sightings! Coincidence? You decide!"

Considering Michelle Souliere and I are coauthoring a book entitled Bigfoot in Maine, I immediately wondered if Doonesbury's creator/author Garry Trudeau knows something we don't know. Our count is way above "two."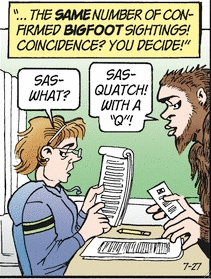 Loren Coleman – has written 5489 posts on this site.
Loren Coleman no longer writes for Cryptomundo. His archived posts remain here at Cryptomundo.