Posted by: Loren Coleman on March 16th, 2011
Biologist Diana O. Fisher, Division of Botany and Zoology, Australian National University, has written an important contribution to the literature on the methodology for the rediscovery of rare, endangered, and apparently extinct mammalian species. One of the keys to finding animals may not necessarily be to search where they were formally found, but, instead, to look at the "range edges and marginal habitat." See the abstract to this new study, below.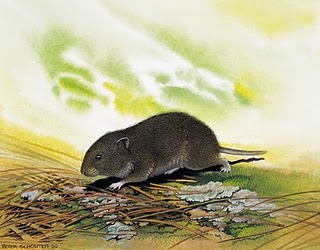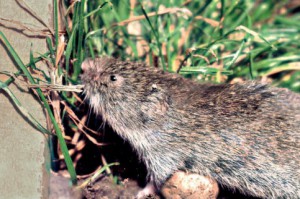 One of the species that Fisher has previously written about is the above pictured mammal, Microtus bavaricus (Konig, 1962). This species had not been seen since 1962, until it was rediscovered in Austria in 2000. The mammal was rediscovered by Dr. Friederike Spitzenberger from the Naturhistorisches Museum, Wien, during a live-trapping session in the Rofan mountains, which are in the Brandenberg Alps, Austria. The rediscovery location was not specifically near their original type locality, which was the previously known one site where they were found, in Garmisch-Partenkirchen, Bavaria, Germany. The Bavarian pine vole (Microtus bavaricus) is a vole, now known from the Austrian, Italian, and Bavarian Alps of Europe.
Fisher, Peter Maas, and their colleagues have gathered an amazing database of rediscovered mammals. See here.
The rediscovered hairy-nosed otter (Lutra sumatrana) was photographed by an automated camera trap set up by the Conservation of Carnivores in Sabah project; it was announced in 2010. Photo ~ Mohamed & Wilting, SWD, SFD.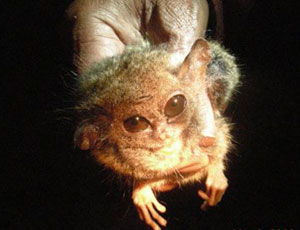 In 2008, scientists observed a living pygmy tarsier (Tarsius pumilus), one of the planet's smallest and rarest primates, for the first time since 1921. The primate was rediscovered on a misty mountaintop, on the Indonesian island of Sulawesi.
Fisher, Diana O. (2011) "Trajectories from extinction: Where are missing mammals rediscovered?"
Global Ecology and Biogeography, In Press.
Aim:
To determine where mammals that are presumed to be extinct are most likely to be rediscovered, and to test predictions of two hypotheses to explain trajectories of decline in mammals. Range collapse is based on the premise that extinction rates at the edge of species ranges are highest because habitat is suboptimal, so declining species are predicted to survive longer near the centre of their ranges. We predicted that under range collapse, remnant populations are most likely be rediscovered within their former core range. Conversely, if threats usually spread across ranges, declining species will be pushed to the periphery (range eclipse), so rediscoveries are predicted at the edge of the pre-decline range. If so, species would be more likely to be rediscovered in marginal habitat, and at higher elevations than the sites from which they disappeared.
Methods:
Using data on 67 species of mammals which have been rediscovered, I tested whether species were disproportionately rediscovered in the outer 50% of their former range area or at higher elevations than their last recorded locations, and which species characteristics were associated with rediscovery location and habitat change, using both the phylogenetic generalized least squares method to account for phylogenetic non-independence and linear models of raw species data.
Results:
Species affected by habitat loss were more likely to be rediscovered at the periphery than the centre of their former range, consistent with range eclipse caused by the spread of habitat destruction. High human population pressure predicted which species changed habitat between their previous records and rediscovery. Coastal species experienced higher human population densities, and were more likely to be rediscovered at the periphery of their former ranges, and there was some evidence of an up-slope shift associated with higher human populations at lower elevations.
Main conclusion:
The locations of rediscoveries of species affected by habitat loss were consistent with range eclipse through a mechanism of spreading habitat loss and human population pressure, rather than with range collapse. Searches for mammals that have declined from habitat loss should include range edges and marginal habitat, especially in areas of high human population density.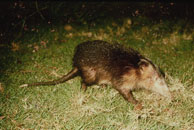 The Cuban solenodon (Solenodon cubanus), a primitive insectivore, was believed to be extinct until its rediscovery in 2003.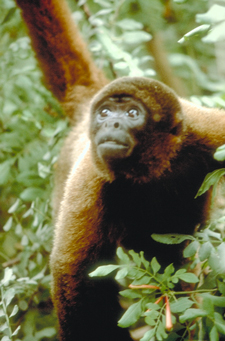 The yellow-tailed woolly monkey (Lagothrix flavicauda), a distinct species of woolly monkey, was thought to be extinct until its rediscovery in 1974, in the Peruvian Andes.
Loren Coleman – has written 5489 posts on this site.
Loren Coleman no longer writes for Cryptomundo. His archived posts remain here at Cryptomundo.