Posted by: Loren Coleman on September 6th, 2008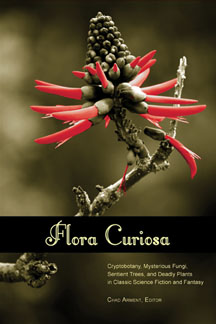 Chad Arment is the editor of a new anthology, Flora Curiosa: Cryptobotany, Mysterious Fungi, Sentient Trees, and Deadly Plants in Classic Science Fiction and Fantasy.
Flora Curiosa is an anthology of 20 classic short stories involving all kinds of weird plants and fungi, including the man-eating varieties. The stories he reprints are the precursors and often directly influence contemporary "killer plant" science fiction and fantasy books and films. It is a unique collection for those wishing to extend their cryptobotany fiction library.
Arment's gathered stories are:
"Rappaccini's Daughter" (1844), Nathaniel Hawthorne
"The American's Tale" (1880), Arthur Conan Doyle
"The Man-Eating Tree" (1881), Phil Robinson
"The Balloon Tree" (1883), Edward Page Mitchell
"The Flowering of the Strange Orchid" (1894), H. G. Wells
"The Treasure in the Forest" (1894), H. G. Wells
"The Purple Pileus" (1896), H. G. Wells
"The Purple Terror" (1898), Fred M. White
"A Vine on a House" (1905), Ambrose Bierce
"Professor Jonkin's Cannibal Plant" (1905), Howard R. Garis
"The Willows" (1907), Algernon Blackwood
"The Voice in the Night" (1907), William Hope Hodgson
"The Orchid Horror" (1911), John Blunt
"The Man Whom the Trees Loved" (1912), Algernon Blackwood
"The Pavilion" (1915), E. Nesbit
"The Sumach" (1919), Ulric Daubeny
"The Green Death" (1920), H. C. McNeile
"Si Urag of the Tail" (1923), Oscar Cook
"Green Thoughts: A Story" (1931), John Collier
"The Walk to Lingham" (1934), Lord Dunsany
Loren Coleman – has written 5489 posts on this site.
Loren Coleman no longer writes for Cryptomundo. His archived posts remain here at Cryptomundo.