Posted by: Loren Coleman on September 16th, 2009
Another future museum replica to ponder? More breaking news?
So, the new rumored Safari Ltd's 2010 Carnegie Ichthyosaurus is said to have a "closed jaw" and reportedly an "ammonite's tentacles are in the mouth [of the Ichthyosaurus] not the [ammonite's] shell. The shell is hanging off to the side of the [Ichthyosaurus'] jaws."
I wonder if the new Carnegie replica is based on the artwork of Ichthyosaurus grendelius by John Sibbick.
Here is the sample painting he shows to sell this artwork.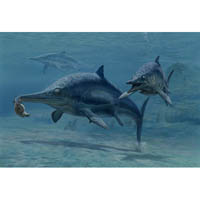 His art is for sale on the Natural History Museum picture library site, and on that of Sibbick's personal site.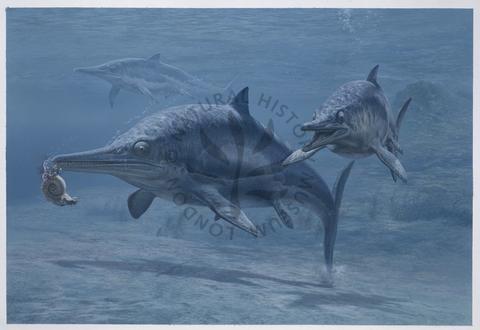 Makes you wonder. Could the 2010 WS prehistoric marine life toob's small Ichthyosaurus ~ which has its mouth open ~ be used in a diorama to represent a young Ichthyosaurus, as shown in the Sibbick painting above?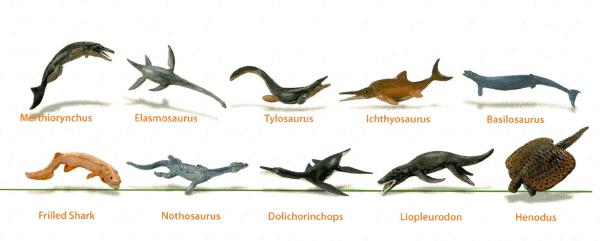 The 2010 Wild Safari Prehistoric Sea Life toob.
Sea Monsters were and are real. Heaven help the ammonites.
The oceans remain a dangerous place.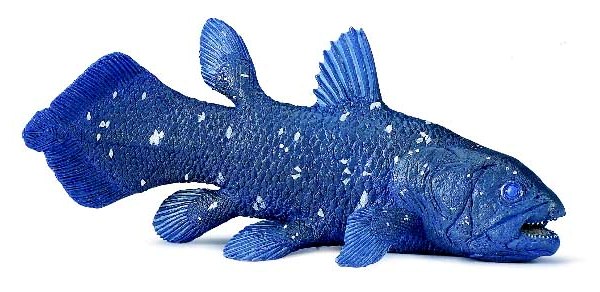 Wild Safari's 2010 hotly anticipated coelacanth replica!
Lionfish, tiger sharks, Ichthyosaurus, giant squids, and coelacanths? Coming soon to a neighborhood museum shop near you.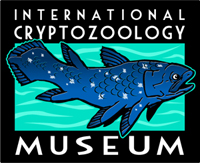 Support the new, public, physical land-based but sea port location of the International Cryptozoology Museum in downtown Portland, Maine. Help us swim together towards this great adventure.
Come visit. Shop in the gift store. Donate to assist our survival.
Please click on the button below (not the one up top) to take you to PayPal to send in your museum donation.
If you wish to send in your donation via the mails, by way of an international money order or, for the USA, via a check or money order, please use this snail mail address:
Loren Coleman
International Cryptozoology Museum
PO Box 360
Portland, ME 04112
Thank you, and come visit the world's first fully staffed public cryptozoology museum at 661 Congress Street, Portland, Maine 04101, beginning November 1, 2009!!
Loren Coleman – has written 5489 posts on this site.
Loren Coleman no longer writes for Cryptomundo. His archived posts remain here at Cryptomundo.