Posted by: Loren Coleman on July 16th, 2010
In June, I talked to investigator, cryptozoologist, and my youngest brother, Jerry Dale Coleman, author of Strange Highways and More Strange Highways and he was tired but recovering from new rounds of treatments for his various ailments. Since that time, sadly, due to his suffering from the effects of throat and lung cancer, he may now have weeks to live.
Two weeks ago, Jerry had another operation to repair an aneurysm on his aorta. The result was not good. They found another aneurysm they could not repair, so a vein was shut down and his spleen is being allowed to die. He is now in great pain, not eating, and, according to his wife, "gray" and barely hanging on. Jerry is in so much pain, he is no longer in good spirits, and apparently has "given up."
In conjunction with my sister from California, I will be traveling very soon, from Maine, to go see him before the end of July.
As I have mentioned, Jerry has already been approved to have his body go to the Body Farm, a la' Grover Krantz. He has decided to wear an International Cryptozoology Museum shirt when he is placed on the ground there for the forensic scientists to use his body for training new investigators.
If you would like to mail a final respectful card to Jerry, please send it to
Jerry Dale Coleman
199 Valley Crest Drive
Mount Carmel, TN 37645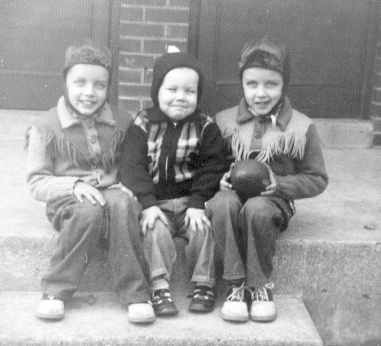 Jerry is the one in the middle in this old photo, taken at 123 Longview Place, Decatur, Illinois. I am to the right (with the football) and that's Bill at the left.
Loren Coleman – has written 5489 posts on this site.
Loren Coleman no longer writes for Cryptomundo. His archived posts remain here at Cryptomundo.