Posted by: Loren Coleman on May 24th, 2009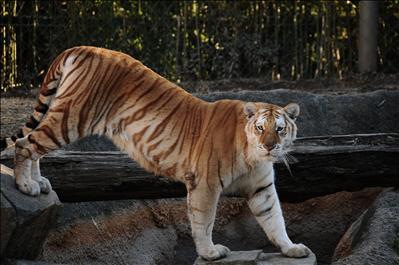 It probably happens more often than we notice.
I use to track "animal attacks" in a little informal research project during the 1970s and discovered they often happened during specific phases of the moon. I wish someone would do a longterm scientific statistical study of non-domestic animal attacks to see if there are any significant correlations.
Anyway, just for the record, breaking news tonight is that there has been another tiger-human encounter.
Then I looked up the moon phases. Yep, there was a New Moon today – May 24, 2009, 12:11 Universal Time.
A spokesman for the Memphis Zoo says a zookeeper is in stable condition after being bitten in the leg by a Bengal tiger.
Spokesman Drew Smith tells WMC-TV that the 3-year-old tiger bit the man in the lower calf on Sunday morning, May 24, 2009. The attack came before visitors were in the park in a secure area off-limits to the public.
Smith says the tiger, named Kumari (pictured above), was sedated after the attack and zoo officials are investigating. Smith says zoo officials don't know whether something provoked the tiger, but added that wild animals "don't necessarily need to be provoked."
Kumari is one of three Bengal tigers at the zoo.
The zookeeper is expected to make a full recovery. Zoo officials said he is well-trained and highly experienced in handling tigers.
Those working with animals sometimes have a sixth sense that some animals are "difficult" during Full and New Moons.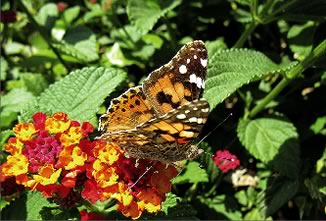 Meanwhile, on May 24th, Malta Today reported that naturalists have recorded thousands of painted lady butterflies, above, (Vanessa cardui) currently migrating over the Maltese islands.
Charles Hoy Fort, author, skeptic and iconoclast wrote about the interconnectedness of nature and the butterfly effect before the term was coined in his books New Lands and Wild Talents. In New Lands he makes reference to a migration of birds in New York that could cause a storm in China.
Source
For a longer discussion of how these events figure into the bigger picture, see The Butterfly Effect.
Loren Coleman – has written 5489 posts on this site.
Loren Coleman no longer writes for Cryptomundo. His archived posts remain here at Cryptomundo.