Posted by: Loren Coleman on September 28th, 2010
Season Three of Animal Planet's "Lost Tapes" begins on September 28, 2010. The network announced the episode lineups of the cryptofiction series (all times given are Eastern) and we published them last week. Here they are again:
09/28/10 10:00 PM Zombies
09/28/10 10:30 PM Kraken
10/05/10 10:00 PM Strigoi
10/05/10 10:30 PM Poltergeist
10/12/10 10:00 PM Devil Monkey
10/12/10 10:30 PM Yeti
10/19/10 10:00 PM Wendigo
10/26/10 10:00 PM Q: The Serpent God
11/02/10 10:00 PM Beast of Bray Road
11/09/10 10:00 PM Reptilian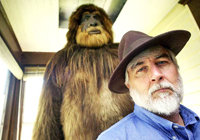 Depending on the post-production editing, Loren Coleman and the International Cryptozoology Museum will be seen in minor inserts during the factoids of most of these ten episodes.
Sometimes it is necessary to have a serious cryptozoologist speak seriously on television, for obvious reasons, no matter what happens in the editing process.
Let us remember that this is a fictional television program. Did Jules Verne ruin the reputation of marine science by writing 20,000 Leagues Under The Sea? This show is cryptofiction and thus should not be judged as nonfiction.
Loren Coleman – has written 5489 posts on this site.
Loren Coleman no longer writes for Cryptomundo. His archived posts remain here at Cryptomundo.