Posted by: Loren Coleman on October 20th, 2011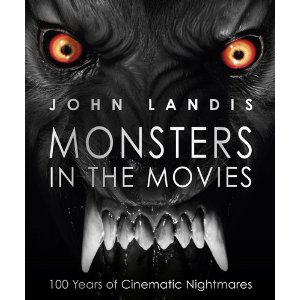 Monsters in the Movies is a new book by John Landis, which appeared in September 2011.
Landis is of some consideration within hominology. The early rumors linking John Chambers, the makeup artist, as being behind the Patterson-Gimlin footage, were sourced as coming from Landis. Chambers roundly denied all links to the P-G film, but said the rumors and publicity were good for his reputation in Hollywood.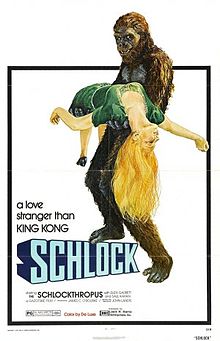 Who could forget John Landis's Bigfoot classic, Schlock?
In his new book, Landis has sections of special note entitled, "Monstrous Apes," "Myths, Legends and Fairy Tales," "Human Monsters," plus sections on Rick Baker and Ray Harryhausen. Of less interest to cryptozoologists are the requisite zombies, ghosts and mutant monsters.
The book is loaded with photographs and poster reproductions. A correspondent who has seen it writes, "It's just a beautiful book. It's one of those over-sized, coffee table books that ain't cheap, $40 + tax, but it's worth it."
From Amazon.com:
Review
As director of An American Werewolf in London and Innocent Blood, Landis is no stranger to horror films. Here, he offers a whirlwind tour of just about everything related to the genre, from the silents to today's computer-generated imagery. Typical of DK, the book includes thousands of captioned photos featuring Landis's commentary on the films. Chapters cover vampires, werewolves, mad scientists, zombies, giant apes, atomic mutations, space monsters, and much more. Subsections spotlight actors like Lon Chaney Jr.–this book is extremely thorough. Landis also provides brief interviews with actor Christopher Lee, directors David Cronenberg, John Carpenter, Guillermo del Toro, and Sam Raimi, makeup master Rick Baker, and legendary stop-motion animator Ray Harryhausen, a wonderful bonus. Verdict: With tons of cool pics and beautifully reproduced film posters, Landis's volume knocks it out of the park as a superbrowsable overview of the beasties, ghosties, and ghoulies that have terrified us on the big screen all in the name of fun. Horror fans will love it. –Library Journal, August 1, 2011
Product Description
From B-movie bogeymen and outer space oddities to big-budget terrors, Monsters in the Movies by legendary filmmaker John Landis showcases the greatest monsters ever to creep, fly, slither, stalk, or rampage across the Silver Screen!
Landis provides his own fascinating and entertaining insights into the world of moviemaking, while conducting in-depth "conversations" with leading monster makers, including David Cronenberg, Christopher Lee, John Carpenter, and Sam Raimi— to discuss some of the most petrifying monsters ever seen. He also surveys the historical origins of the archetypal monsters, such as vampires, zombies, and werewolves, and takes you behind the scenes to discover the secrets of those special-effects wizards who created such legendary frighteners as King Kong, Dracula, and Halloween's Michael Myers. With more than 1000 stunning movie stills and posters, this book is sure to keep even the most intense fright-seekers at the edge of their seats for hours!
Thanks to MB for the newstip and critique.
Loren Coleman – has written 5489 posts on this site.
Loren Coleman no longer writes for Cryptomundo. His archived posts remain here at Cryptomundo.