Posted by: Loren Coleman on July 23rd, 2009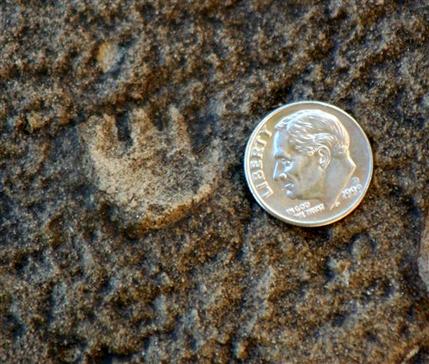 (Dinosaur National Monument)
This photo provided to the AP on July 23, 2009, by the Dinosaur National Monument, near Vernal, Utah, shows a small fossil mammal footprint, no bigger than a dime. Hundreds of tiny footprints left by mammals some 190 million years ago have been found on a canyon wall in a remote part of Dinosaur National Monument on the Utah-Colorado border, park officials said.
The tracks are a rare find, mostly because they were left at a time when the area was a hostile, vast Sahara-like desert where towering sand dunes seldom preserved signs of animal life.
Dan Chure, a paleontologist at the monument, and paleontologist George Engelmann of the University of Nebraska at Omaha spotted the tracks July 8 while scouring the area for fossils and other evidence from the early Jurassic period. Dinosaur National Monument, founded because of its rich and plentiful supply of dinosaur bones, straddles the Utah-Colorado border.
Most of the tracks are the size of a dime or smaller. A few include impressions of up to four toes. The mammals – perhaps the size of a rat – were among the few species that were able to survive between large sand dune fields where there was water, dinosaurs and a few plants, Chure said.
Interspersed among the mammal footprints are tracks from larger animals, possibly small dinosaurs, Engelmann said.
It might have been some kind of small mammal like Maastrichtidelphys meurismeti.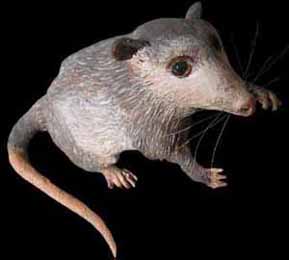 Loren Coleman – has written 5489 posts on this site.
Loren Coleman no longer writes for Cryptomundo. His archived posts remain here at Cryptomundo.