Posted by: Loren Coleman on September 16th, 2010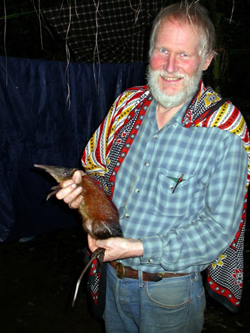 Dr. Galen Rathbun holds the grey-faced sengi, a recently discovered elephant-shrew much like the new one just found. Photo by David Ribble.
A giant elephant-shrew has been caught on camera in a remote African forest, which may be a new species, scientists say.  In general, these are termed giant sengi. The unique and intriguing mammal, which has a long, flexible, trunk-like nose, was discovered in the Boni-Dodori forest in northeastern Kenya.
Camera traps were set up in the remote forest after Grace Wambui, a fellow of the Zoological Society of London's Edge of Existence program spotted an elusive elephant-shrew she did not recognize.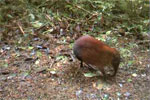 This is an example from a similar camcorder trap video sequence of a gray-faced sengi foraging on a game trail through the Ndundulu Forest, Udzungwa Mountains, Tanzania. Video: Trevor Jones, 4 June 2006, 1207 hours
Sometimes, a bit of comedy develops from how this news has been delivered, in a rush to put too much info in a headline. For example, the Kenya Broadcasting Corporation has posted a story entitled, "Unknown elephant relative photographed in Kenya." Elephant-shrews, indeed, are more closely related to elephants than shrews, despite their small size, but are named for their long trunk-like snout. All elephant-shrews are found only in Africa.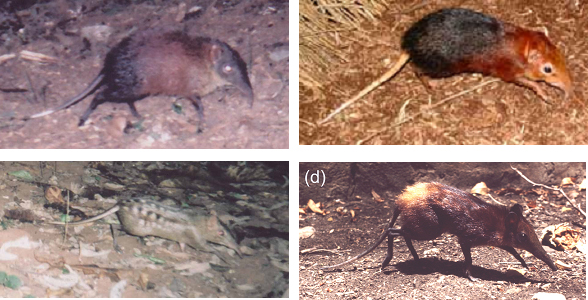 Representatives of the four species of giant sengi: (a) gray-faced sengi (camera trap image), (b) black-and-rufous sengi (captive), (c) checkered sengi (camera trap image), and (d) golden-rumped sengi (captive).
Plate from Rovero, F. & G.B. Rathbun. 2006. "A potentially new giant sengi (elephant-shrew) from the Udzungwa Mountains, Tanzania." Journal of East African Natural History 95:111-115.
Loren Coleman – has written 5489 posts on this site.
Loren Coleman no longer writes for Cryptomundo. His archived posts remain here at Cryptomundo.