Posted by: Loren Coleman on October 27th, 2008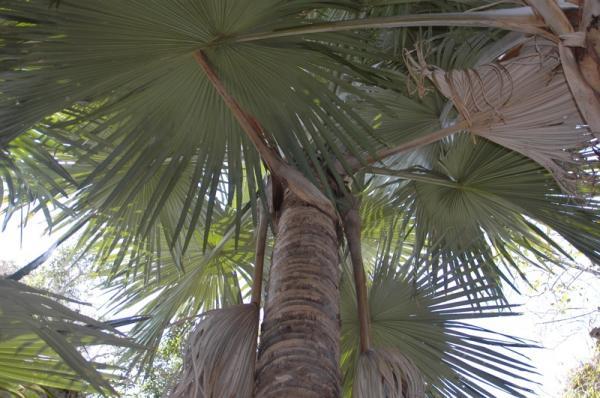 The leaves of Tahina spectabilis. (Credit: John Dransfield)
It appears this one has been hiding in plain sight.
A new species of palm tree was newly described early in 2008 (Dransfield & Rakotoarinivo, 2008) in Madagascar – one which grows for as long as 50 years and as high as 60-feet high, bursts into flower and then dies. Named Tahina spectabilis, the new palm is so massive it can be seen in Google Earth.
The palm was discovered by French cashew plantation manager Xavier Metz and his family, who were strolling through a remote northwestern region of Madagascar in 2007 when they came across a flowering individual and sent photos to the Kew Gardens for identification.
Its name is derived from "Tahina," a Malagasy word meaning "to be protected" or "blessed," being the given name of Anne-Tahina Metz, the daughter of its discoverer, while "spectabilis" means spectacular in Latin.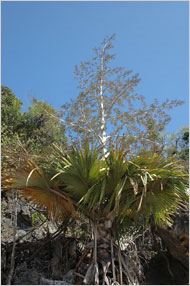 T. spectabilis (above) normally appears much like other palms. However, when it flowers, which John Dransfield of the Royal Botanic Gardens, Kew (the so-called "Kew Gardens" near London, England) estimates as occurring after 30 to 50 years, the stem tip grows a large inflorescence that bursts into branches of hundreds of flowers. The drain on nutrients this display entails results in the death of the organism within several months.
The palm is the largest of the 170 palm species native to Madagascar, having a trunk up to 18 m (59 ft) tall and leaves which are over 5 m (16 ft) in diameter.
(I had earlier posted on this story, here, but new details mandated an update.)
Loren Coleman – has written 5489 posts on this site.
Loren Coleman no longer writes for Cryptomundo. His archived posts remain here at Cryptomundo.