Posted by: Loren Coleman on February 25th, 2010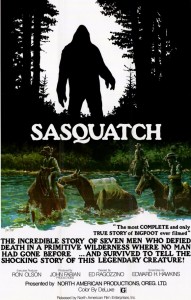 In an earlier posting, I noted that Ed Ragozzino, 79, the director of the classic film, Sasquatch, the Legend of Bigfoot (1977) had passed away on January 30, 2010, in Springfield, Oregon, near his home of Eugene.
His son has contacted me with further information he would like to share and a photograph of the film's crew. He writes:
Ed enjoyed the interest of the film's fans and he was proud that the film is still well-respected after all these years. He knew there's never been another film like it. 'Sasquatch' was the only film he directed. He was hired because of his experience as a stage director. The producer, Ron Olson, knew Ed would be able to find local actors that would be right for their roles. Ed was a college theater professor and directed many plays. Most of the actors had previously performed in his stage productions. He decided who he wanted to cast and asked them if they wanted to be in the film. I don't think there were any auditions. The film was shot in the summer of 1975 in super-16 and blown up to 35mm. Some stock footage of wildlife was used but most of the animal scenes were shot on location. Filming locations were in the Oregon Cascades near Bend. The final scene where the Sasquatch attacks was filmed at Todd Lake.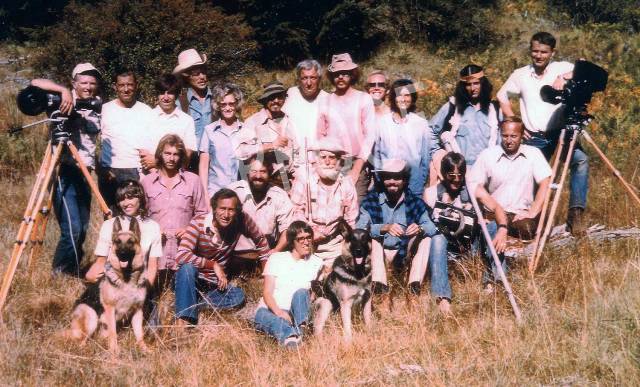 Caption: In the photo, Ed is in the red striped shirt. The cameraman on the left is John Fabian and on the right is Bill Farmer. In front of Bill is the producer, Ron Olson.
The actor in the top right corner, wearing the wig in the role of "Techka Blackhawk," is Joe Morello. Can you identify any of the other cast and crew? Or name Olson's dog?
My condolences, once again, to the Ragozzino family, plus to all his Eugene and far-flung friends.
Loren Coleman – has written 5489 posts on this site.
Loren Coleman no longer writes for Cryptomundo. His archived posts remain here at Cryptomundo.