Posted by: Loren Coleman on August 24th, 2009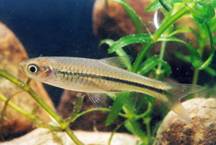 A living fossil called Rasbora steineri was first discovered in a river near Tiechang Village, Guangdong Province, China, by the Fishers Research Institute of Dongguan (FRID), as reported by a new Chinese Web site.
According to FRID's director, Mr. Huang, the Rasbora steineri is an ancient fish, appearing in the Tertiary Period, between 23 and 65 million years ago.
"It was accidental for us to discover Rasbora steineri. When members of the Team of Fish Resource Survey were classifying and studying the fish they'd caught, they discovered that one little fish had the features of Rasbora steineri," Huang said.
"We were not quite sure, however, as only one was caught. We specifically targeted them the second time out. We caught a dozen Rasbora steineri and found another population of the same species in the surrounding waters. We brought them back, carefully identified them, and at last confirmed that they are indeed Rasbora steineri," he said.
Most of Rasbora steineri are small, up to 4 inches long. Their most prominent feature is a black line that runs the length of the body and an apparent curved line going to the bottom of the body. Because they are so small, they are often mistaken for other common small fish.
Loren Coleman – has written 5489 posts on this site.
Loren Coleman no longer writes for Cryptomundo. His archived posts remain here at Cryptomundo.