Posted by: Loren Coleman on August 2nd, 2006
Our friends over at The Anomalist have pointed out a cool out-of-place animal story, about a member of the Sirenia, that you will want to read. On a day like this, I feel good just looking at this photograph.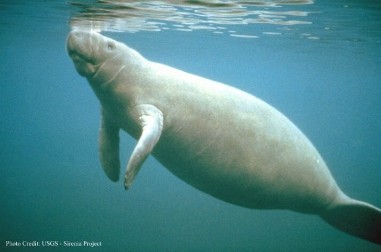 TA points out that the Poughkeepsie Journal of August 2, 2006, is reporting a ten-foot long, 1000-pound manatee (Trichechus manatus latirostris) has been sighted in the Hudson River near Manhattan, New York City.
The Journal notes:
Watchers tracked this one last month as it swam north — first near Delaware, then Maryland, then New Jersey. Saturday, it was seen at 23rd Street in Manhattan, then later at 125th Street in Harlem.
Unusual but not unknown, manatees have been seen this far north before, with a manatee seen off the eastern tip of Long Island in 1998, and another one migrated along Long Island in 2005. But up the Hudson River? Now that's a new one.
"As far as I know, the first for the river. We did have one migrate up along Long Island last summer but it never moved inshore," said Tom Lake, the editor of the Hudson River Almanac. "Pretty exciting stuff."
If you read more media stories of this event, you probably will run across references to the 1994 sightings of Chessie, a manatee that swam up to Chesapeake Bay in Virginia-Maryland. But don't confuse that Chessie with the cryptozoological Chessie, a large snake-like cryptid, literally a Sea Serpent seen in those same waters from the 1960s to present, with the majority of sightings in 1978-1982. (See pages 66-67, here, for more details.)
BTW, Cryptomundo would like to congratulate The Anomalist for the addition of their new editor who took over for the retiring Wisconsin paranormalist Richard Hendricks. The new guy is Illinois Fortean researcher Scott Maruna, author of The Mad Gasser of Mattoon.
Maruna appears to be a fan of out-of-place animal stories, and those are items that are certainly appreciated by me. Welcome to Scott.
Loren Coleman – has written 5489 posts on this site.
Loren Coleman no longer writes for Cryptomundo. His archived posts remain here at Cryptomundo.