Posted by: Loren Coleman on June 28th, 2010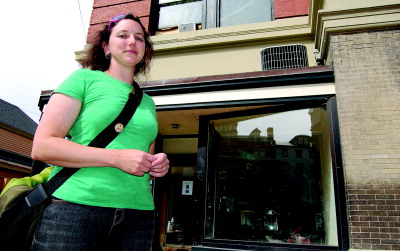 The Maine Sunday Telegram, published an interview with Michelle Souliere. For those that would like to meet the author, she is making appearances around Maine. For example,
MEET THE AUTHOR
BROWN BAG LECTURE. Portland Public Library, noon to 1 p.m. Wednesday. Call 871-1700 or visit here.
BOOKS IN BOOTHBAY. Souliere will be one of 40 authors appearing at various locations from 12:30 to 3:30 p.m. July 10. Visit here.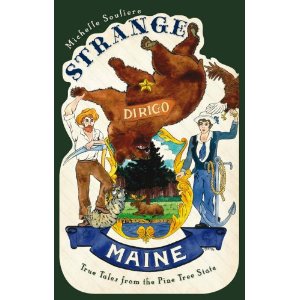 Here's part of the interview…
If it's oddball or eerie, you just might read about it in Michelle Souliere's newly published 'Strange Maine.'

Michelle Souliere pursues her hobbies with passion. And when some readings got her interested in unusual places and happenings in Maine, she started a blog about them and then the printed "Strange Maine Gazette."

With that experience, she was approached by History Press in Charleston, S.C., to write a book. The result is "Strange Maine: True Tales from the Pine Tree State," a paperback of 126 pages crammed with everything from Maine monsters and true crime to a piece on a hubcap haven and a recycle zoo.

She owns and operates The Green Hand, a used bookstore and more at 661 Congress St. that has the advantage of being located in front of the Maine Cryptology Museum [actually, it's called the International Cryptozoology Museum], run by Loren Coleman.

Souliere was born in Maryland and moved to Maine when she was 3 or 4. She has lived here since, mostly in Portland.

Q: So, with the publishing industry in the state it is in, how did you get this book published by a national company?

A: Shortly after I set up shop last fall I was approached by History Press, so I never had to shop my book around myself. They had seen my blog and "The Gazette," so they wanted me to do it.

Q: How much time did you have to write it?

A: They came up with the proposal last fall, and they wanted it for this summer's tourist season, so it came up pretty quick. The deadline was in March.

Some of it I had done research on, for the blog or Gazette, but I had to flesh it out and fact-check. I probably had about a third of it done.

I originally thought that, since we were coming up to winter, I could get work done during the slow times at the shop. But I didn't know that even during the slow times there was so much to do. It ended up being a lot of nights and weekends.

Q: What turned you to the idea of writing about strange things?

A: I had been reading Loren Coleman's "Mysterious America" and William Robinson's "Abandoned New England: Its Ruins and Where to Find Them," and it got my curiosity going. There is just so much cool stuff around Maine and no one doing much with it, so I started the website.
See the rest of Tom Atwell's article, Books Q&A: In quite a state, for more.
Loren Coleman – has written 5489 posts on this site.
Loren Coleman no longer writes for Cryptomundo. His archived posts remain here at Cryptomundo.