Posted by: Loren Coleman on August 24th, 2008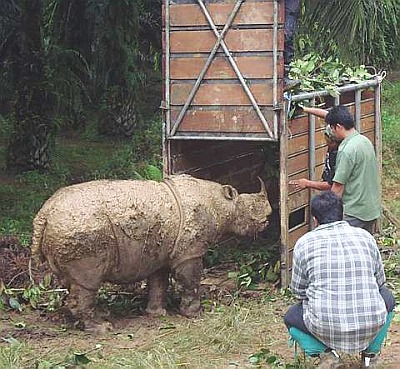 In you go: Rangers coaxing the rhino to get into the crate before it was transported to a wildlife reserve in Sabah
A critically endangered male Sumatran Rhinoceros was rescued and transferred to a wildlife reserve in a two-week operation in the east coast of Sabah.
The rhino, a species on the brink of extinction, was found wandering at an oil palm plantation neighbouring a forest area in Sabah's east coast on Aug 5 when the Sabah Wildlife Department launched the rescue.
"It was obvious that the rhino was injured to some degree as it left its forest to a flat terrain of the oil palm plantation," Dr Senthilvel Nathan, the department's chief field veterinarian said yesterday.
Dr Senthilvel, who headed the rescue operation, said no sedatives were used on the rhino.
He and veterinarian Dr Roza Sipagkui assessed the rhino's health before allowing its transfer via a four-hour road journey to Tabin.
"It was a delicate operation as we had to make sure that the rhino was not stressed out," he said.
Rangers and veterinarians stayed close to the rhino for 10 days to habituate their presence to it before getting close enough to check its condition and prepare it for the journey.
The rangers were supported by experts from SOS Rhino Borneo and WWF Malaysia.
The department's director, Lautentius Ambu, thanked Unico Estate general manager Chew Beng Hock and Temenggong Estate manager Gucharan Singh for informing and assisting the department in transporting the rhino.
Source: Malaysian Star, Sunday, 24 August 2008
Loren Coleman – has written 5489 posts on this site.
Loren Coleman no longer writes for Cryptomundo. His archived posts remain here at Cryptomundo.