Posted by: Loren Coleman on July 21st, 2010
Tigers or bobcats? You be the judge.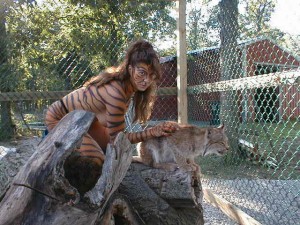 Photo credit: Body Art by Pamela Shanteau
The Dallas Observer, July 20, 2010, noted that WFAA-Channel 8 and KRLD-AM reported [on July 20, 2010] that a few folks spotted tigers in downtown Dallas [on July 19, 2010] — two, specifically, near Union Station. This caused Dallas police spokesman Senior Corporal Kevin Janse to send the following information bulletin headlined by the subject heading "Bobcat sightings."
Last night at 10:45 pm, Dallas Police, along with Animal Control Officers, responded to a call for service regarding several people seeing what they described as possible tigers loose around the Dart Train line and Union Station. The citizens went into Union Station and alerted security who called 9-1-1. Officers searched the area for several hours as well as utilized the police helicopter. No large cats were found. The circus, that will be in town soon, does not have any animals here yet and the Dallas Zoo did not have any animals get out. It appears that they may have been two wild bobcats. They were described as being knee high and weighing about 50 pounds. Officers made several homeless people in the area aware of what was seen for their safety. The case was closed at 12:25 am with no sighting.
TheDallas Morning News also mentioned:
Several officers and a helicopter patrolled the area overnight but found no sign of the 50-pound cats. Police contacted the Dallas Zoo and the nearby circus and said that no animals had escaped.

Police have no idea where the animals came from.
Loren Coleman – has written 5489 posts on this site.
Loren Coleman no longer writes for Cryptomundo. His archived posts remain here at Cryptomundo.