Posted by: Loren Coleman on June 20th, 2008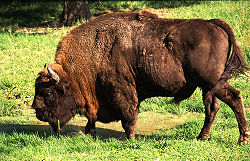 The goverment of Ukraine intends to introduce a threatened species, the European bison or wisent (Bison bonasus), into the exclusion zone around the stricken Chernobyl nuclear reactor.
The plan is to create a nature reserve where the bison can thrive in the absence of humans.
The minister in charge of Chernobyl, Volodomir Shandra, says there are clean areas within the 30-kilometre radius where the pilot scheme could work.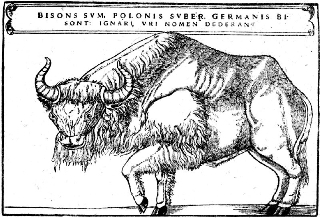 The wisent is the heaviest surviving land animal in Europe, a relic of the Pleistocene megafauna of Eurasia. A forest dwelling species, wisent were first scientifically described by Carolus Linnaeus in 1758.
The last wild wisent in Poland was killed in 1919 and the last wild wisent in the world was killed by poachers in 1927 in the Western Caucasus. By that year fewer than 50 remained, all in zoos.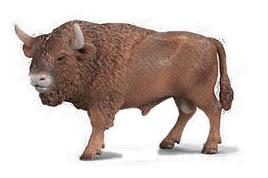 Schleich wisent replica.
Wisent were reintroduced successfully into the wild, beginning in 1951. They are found living free-ranging in forest preserves such as the Western Caucasus in Russia and the Białowieża Forest in Poland and Belarus.
Zoos in 30 countries house about 3000 wisents (as of 2000), all descended from only 12 individuals.
If the Chernobyl scheme is successful, tourists could be invited inside the exclusion zone to view these remarkable animals.
But will they glow?
Loren Coleman – has written 5489 posts on this site.
Loren Coleman no longer writes for Cryptomundo. His archived posts remain here at Cryptomundo.