Posted by: Loren Coleman on July 26th, 2011
Have you ever thought about the fact that most people are looking in the wrong places for cryptids? If you want to find new species of primate, you have to travel to California, Oregon, Washington State, or British Columbia, right? That's the brainwashing that you've heard, correct?
The misdirection is all about the media feeding the frenzy for the "celebrity cryptids": Bigfoot (Sasquatch), Loch Ness Monsters (Nessies), and Abominable Snowmen (Yetis).
Research models, however, show that it is not the Pacific Northwest, Loch Ness, nor the Himalayas where expeditions should be mounted to find new species.
Most of the world's "missing" or undiscovered species live in regions already identified by scientists as conservation priorities, according to a new study published in the journal Proceedings of the National Academy of Sciences….Six regions already identified by conservation scientists as hotspots — Mexico to Panama; Colombia; Ecuador to Peru; Paraguay and Chile southward; southern Africa; and Australia — were estimated by the models to contain 70 percent of all predicted missing species. Only two regions with high estimates of missing species — the region from Angola to Zimbabwe, and the northern Palearctic, which encompasses parts of Europe and Asia — contained no biodiversity hotspots. Source.
Those doing this research know that it is uphill struggle.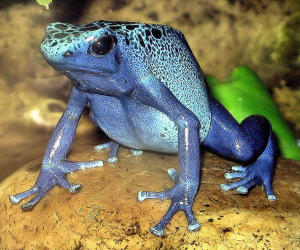 Blue poison dart frog Dendrobates azureus at Bristol Zoo, England. (Credit: Adrian Pingstone, public domain.)
"We know we have an incomplete catalogue of life," says lead author Lucas Joppa of Microsoft Research in Cambridge, U.K., who received his PhD in ecology from Duke in 2009. "If we don't know how many species there are, or where they live, then how can we prioritize places for conservation? What if the places we ignore now turn out to be those with the most unknown species?"
…
"How can you save a species you don't even know exists?" asks Joppa. "You can't. But you can protect places where you predict they occur."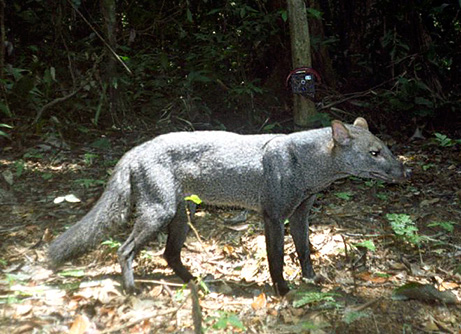 The rare short-eared dog.
While most people want to "protect" Bigfoot, of course, they sometimes forget you can't protect something that has not been established as being a verified species.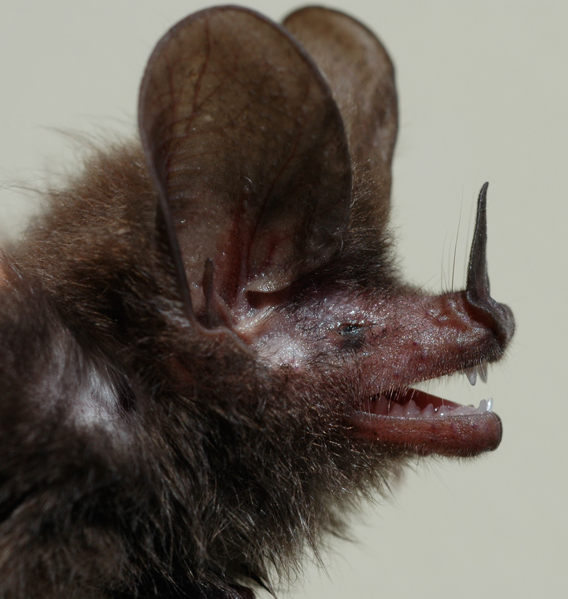 New species of bat discovered on St. Vincent.
Loren Coleman – has written 5489 posts on this site.
Loren Coleman no longer writes for Cryptomundo. His archived posts remain here at Cryptomundo.