April 28, 2014
Archive: Crypto Four Corners Beyond the Edge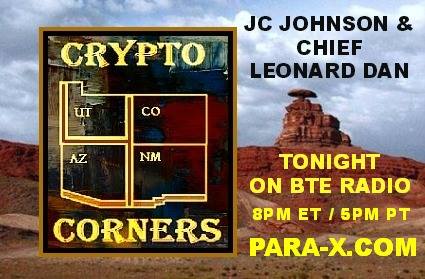 Eric, Lon, Sean and Amy are back from Phenomacon this week and live in the BTE Studios to share their Phenomacon experiences in the first half hour. Then we welcome back our good friend JC Johnson from Crypto 4 Corners and first time guest Navajo Elder Chief Leonard Dan, also a Crypto 4 Corner member. JC and Leonard will be discussing some recent breaking developments in the 4 corners area, recent cases, cryptid signtings and updating us some ongoing investigations. As it has in the past, Sunday nights show promises to be another intriguing and unusual trips through the world of the unknown that you don't want to miss.
About JC Johnson – Jc Johnson founded and leads "Crypto Four Corners" a group of enthusiastic and determined group of researchers investigating a variety of strange creatures in the Four Corners areas of Arizona, Colorado, New Mexico and Utah. The group's research includes Bigfoot, Giant Snakes, Werewolves, living dinosaurs, dragons, centaurs, giant birds, Native American "Skin Walkers", The Night Stalker, and other strange cryptids reported in this remote and wild region. In addition to eye-witness accounts, they investigate mysterious livestock deaths, and other suspicious incidents. JC has been a professional river and outdoor guide for more than 20 years. His knowledge, attunement to nature, and underlying faith make him a driving force in the field of Cryptozoology and paranormal research. JC also serves as President of the North American Forean Society. His amazing experiences will make you rethink the unexplained, and leave you wondering whether you should check under your bed tonight before you dare close your eyes.
About Chief Leonard Dan – Cheif Leonard dan is an elder in the Navajo nation and a member of Crypto Four Corners. Chief Leonard Dan brings with him his knowledge of wildlife, traditions and history of the area. Dan is a real asset to the team and he has had an encounter with what he believes to be the legendary "Skinwalker" on his ranch, many years ago.
To learn more about Crypto Four Corners visit them on Facebook.
About Craig Woolheater
Co-founder of Cryptomundo in 2005. I have appeared in or contributed to the following TV programs, documentaries and films: OLN's Mysterious Encounters: "Caddo Critter", Southern Fried Bigfoot, Travel Channel's Weird Travels: "Bigfoot", History Channel's MonsterQuest: "Swamp Stalker", The Wild Man of the Navidad, Destination America's Monsters and Mysteries in America: Texas Terror - Lake Worth Monster, Animal Planet's Finding Bigfoot: Return to Boggy Creek and Beast of the Bayou.
Filed under Bigfoot, Bigfoot Report, Cryptid Canids, CryptoRadio, Cryptozoologists, Cryptozoology, Evidence, Expedition Reports, Eyewitness Accounts, Giant Cryptid Reptiles, Podcast, Pop Culture, Sasquatch