May 15, 2016
Mothman, Dogman, Oh Man!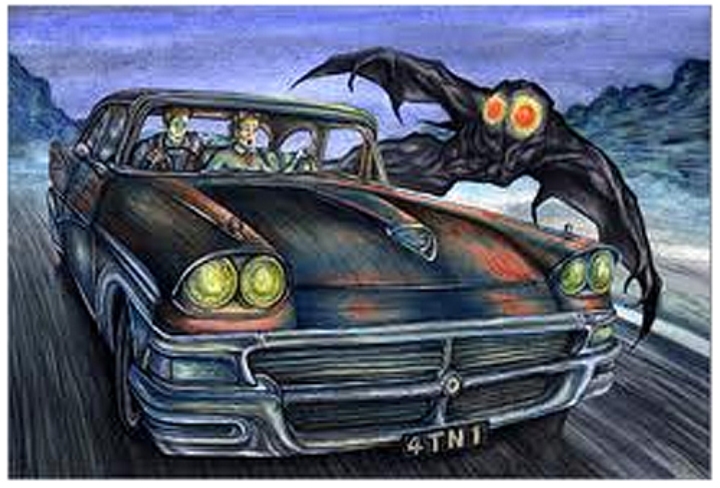 Teal Gray Worldwide Radio – Para Mysteries interviewed Ken Gerhard- Cryptozoologist, Author and Co-Star of History Channel's "Missing in Alaska" about the upcoming 15th Annual Mothman Festival September 17th & 18th in Point Pleasant West Virginia, and the 2016 Dogman Symposium August 6th in Defiance, Ohio.
The community of Defiance, Ohio is notable for its own rash of 'Dogman' encounters during 1972.
This is a family-friendly, public event that will address the phenomenon of accounts describing mysterious monsters that are characterized as resembling real-life 'werewolves!"
To purchase tickets; please visit here.
This year you can listen to top people in the field of investigating unknown creatures like:
Organizer- Ken Gerhard– Author, Investigator of France's Beast of Gevaudan
Master of Ceremonies Lyle Blackburn– Author and Cryptid Man-beast Investigator
Linda Godfrey– Leading Author, Investigator of the Dogman Mystery since 1990
Stan Gordon– Iconic UFO/Creature Investigator
Nick Redfern– Best-selling Author, Investigator of werewolves and devil dogs
David Weatherly– Author, Investigator of Utah's Skinwalker Ranch
John E.L. Tenney– Author, Investigator of the Michigan Dogman
Okay, you clawed your way through the fun at the Dogman Symposium August 6th in Defiance, Ohio, now you're ready to let your curiosity take flight September 17th and 18th? Let's head to Point Pleasant West Virginia!
You wanted a mystery to solve, and here it is. For 50 years, residents of Point Pleasant, W. Va., have claimed they've been haunted by a huge bird-like creature called the "Mothman." Some claiming sightings are connected with UFOs. Others say the Mothman was spotted right before the 1967 Silver Bridge disaster that left 46 people dead. Eyewitnesses say it stands about 6 feet 10 inches tall, with big glowing red eyes and a 15-foot wingspan.
The first newspaper report was published in the Point Pleasant Register dated November 16, 1966, titled "Couples See Man-Sized Bird … Creature … Something." On November 15, 1966, two young couples from Point Pleasant, Roger and Linda Scarberry and Steve and Mary Mallette, told police they saw a large white creature whose eyes "glowed red" when the car headlights picked it up. They described it as a "large flying man with ten-foot wings", following their car while they were driving in an area outside of town known as 'the TNT Area, the site of a former World War II munitions plant. This TNT area can be investigated if you dare.
Check out the Guest Speakers for this year:
Rosemary Ellen Guiley– Author of over 50 books & leading expert in paranormal investigations
Nick Redfern– Author, lecturer, journalist and paranormal researcher
Ken Gerhard– Author & Co-Star of History Channel's "Missing in Alaska"
Susan Sheppard– Creator of "Haunted Parkersburg Ghost Tours", executive producer, and author
Stan Gordon-UFO researcher since 1959, author, & producer of award winning "Kecksburg The Untold Story"
John Frick– Avid paranormal investigator, frequenter of Pt Pleasant, & UFO eyewitness
Chad Lambert-Creator of "Return to Point Pleasant" comic & 2X Harvey Award nominated comic writer
Joedy Cook-Bigfoot researcher for over 20 years, author, & founder of "Cryptid Seekers"
Fred Saluga-Director of WV & Penn. Mutual UFO Network & investigator of 2,000 UFO reports since the 1970's.
Sherri Brake– "Haunted Heartland Tour" owner, author/columnist, & paranormal researcher
Neal Parks– Author and founder of "Parks Paranormal Research & Investigation"
Cameron Jones -Paranormal researcher & investigator
Bill Brock -Cryptozoologist, author, and host of Destination America's "Monsters Underground"
While you're in town, check out The Mothman Museum has the largest collection of props and memorabilia from the movie "The Mothman Prophecies"–in the town where the Mothman sightings and encounters actually occurred. Rare handwritten police reports from the original Mothman eyewitnesses documenting what they experienced, and see rare historical press clippings and photographs of the Silver Bridge disaster. http://mothmanfestival.com/
So keep an eye on the sky and bypass the woods! See you there, Teal Gray
About Craig Woolheater
Co-founder of Cryptomundo in 2005. I have appeared in or contributed to the following TV programs, documentaries and films: OLN's Mysterious Encounters: "Caddo Critter", Southern Fried Bigfoot, Travel Channel's Weird Travels: "Bigfoot", History Channel's MonsterQuest: "Swamp Stalker", The Wild Man of the Navidad, Destination America's Monsters and Mysteries in America: Texas Terror - Lake Worth Monster, Animal Planet's Finding Bigfoot: Return to Boggy Creek and Beast of the Bayou.
Filed under Avian Mysteries, Bigfoot Report, Cryptid Canids, Cryptozoologists, Cryptozoology, Cryptozoology Conferences, Eyewitness Accounts, Festivals, Flying Humanoids, Mothman, Paranormal Investigators, Podcast, Pop Culture, Winged Weirdies