Posted by: Craig Woolheater on April 3rd, 2007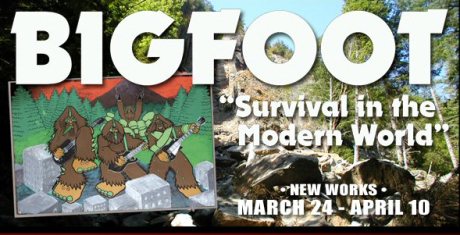 Former tagger Bigfoot leaves fingerprint on art world

Acrylic-on-wood paintings and sketches by the former tagger are on view.

Take an abiding love of nature and add a folkloric fascination with the undiscovered. Stir in a smattering of green markers and paint and you have Bigfoot, the San Francisco tagger turned gallery artist whose namesake and principal subject is the man/ape character long at the center of North American lore.

It's easy to see the kinship the artist feels with the legend.

"He represents everything that's gotten pushed out, man versus nature," says the bearded, long-haired artist, adding, "I've always felt like an outsider."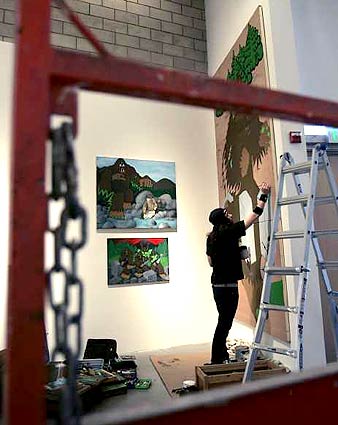 Such is the inspiration for "Survival in the Modern World," Bigfoot's current solo exhibition at the Corey Helford Gallery in Culver City. With a rapt fascination bordering on obsession, Bigfoot has created the 40-plus acrylic-on-wood panel paintings and dozens of smaller sketches that make up the show — depicting everything from a tiny graphic of Bigfoot and his girlfriend to a painting of the forest dweller about to attack a gold-panning pioneer. The unique style of this body of work is the culmination of almost 17 years of artistic exploration of the character also known as sasquatch.
Bigfoot, originally from New Jersey, first sketched the creature from the popular culture of his childhood after watching an episode of Leonard Nimoy's television show "In Search Of," which investigated the Bigfoot phenomenon.

"It gave me a sense of freedom and hope that there was something that people hadn't discovered yet and probably wouldn't have the power to," he says, adding that he was also inspired by the segment's grainy footage. His interest in art as well as skateboarding ultimately led him to the San Francisco Art Institute, where he studied briefly. Within a few years, he was co-founder of the footwear company IPath with pro skater Matt Field.

Despite Bigfoot's artistic training and his fascination with gritty cinematography, his work seems to embrace a more whimsical aesthetic. That's because, apart from depictions of the furry phantom caught on video, the artist also draws his inspiration from old Hanna-Barbera cartoons such as "Scooby-Doo" and "Captain Caveman."

"The characters were cute," he says, "but sometimes menacing."

In that vein, Bigfoot, a huge fan of the rock group KISS, depicts a band of four sasquatches adorned with face paint, playing their instruments between a forest and a cluster of buildings.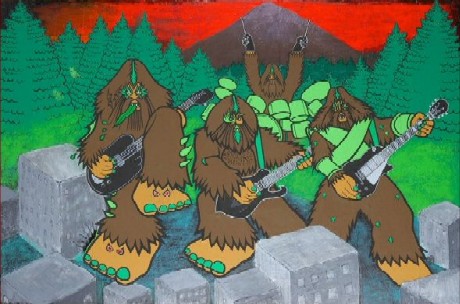 This juxtaposition of nature and urban street life is a large theme in Bigfoot's work and in his life. "My mom was an artist. And my parents would always take me hiking in the Appalachians and stuff," he recalls. "I started seeing faces in nature — like a face on a log — and I wanted to capture those things."

His creative curiosity would similarly prompt him to climb rooftops in San Francisco in search of the perfect urban canvas for his graffiti characters. The variation of Bigfoot's influences is also evidenced in the books he litters his work space with, such as Sierra Club publications from the '70s and kung fu instruction manuals.

The kung fu manuals have helped Bigfoot envision and fashion his subject's behemoth hands. This influence is immediately discernible in his massive 8-foot fallen redwood sasquatch sculpture — a sort of central totem for the show. Though Bigfoot designed it, he decided to commission its construction to 25-year chain saw carver Mark Colp, whose work he had seen in a store in the Bay Area (most notably a carving of a bear sporting a firefighter's cap and wielding an ax).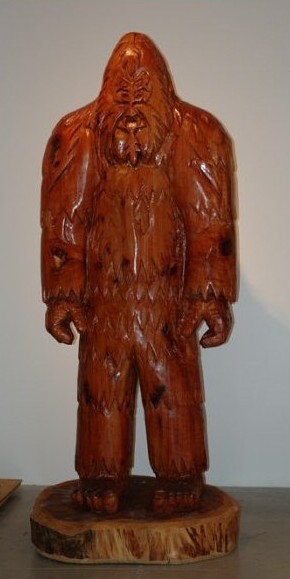 Bigfoot hopes to one day be an apprentice to Colp and fulfill his goal of being "a real woodsman." In the meantime, he has no plans to stop exploring the Bigfoot character.

"Bigfoot's kind of like my Buddha," the artist says.Shana Ting Lipton
Special to The (Los Angeles) Times
If any Cryptomundo readers in the So Cal area are able to drop in and see the art showing before it ends April 10, let 'em know Cryptomundo sent ya and let the rest of us know what you thought!
About Craig Woolheater
Co-founder of Cryptomundo in 2005. I have appeared in or contributed to the following TV programs, documentaries and films: OLN's Mysterious Encounters: "Caddo Critter", Southern Fried Bigfoot, Travel Channel's Weird Travels: "Bigfoot", History Channel's MonsterQuest: "Swamp Stalker", The Wild Man of the Navidad, Destination America's Monsters and Mysteries in America: Texas Terror - Lake Worth Monster, Animal Planet's Finding Bigfoot: Return to Boggy Creek and Beast of the Bayou.