Posted by: Craig Woolheater on August 21st, 2006
Burlington (VT) Free Press columnist Ed Shamy ran a Champ Photo Contest in the newspaper that ended Sunday. The winners were announced in the Sunday edition of the Burlington Free Press.
The article also included the following disclaimer. The Free Press cannot validate the authenticity of these "photos" and "sightings" of Champ, the legendary sea monster.
You would think that they would know that their local monster was a lake monster, not a sea monster…geez.
Below are a couple of the entrant's photos.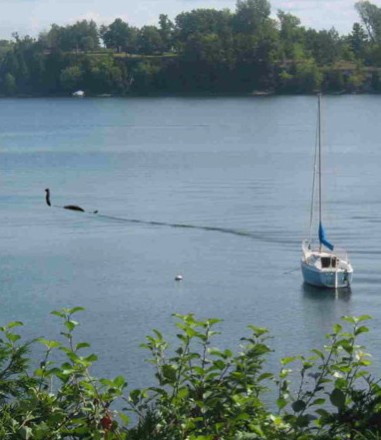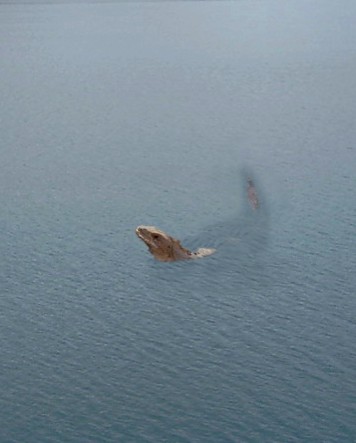 Ian Warda has seen in the span of a few months what most of us will never glimpse in a lifetime.
While in Oregon earlier this year, he spotted Big Foot (aka Sasquatch, aka Yeti).
After learning of the Champ Photo Contest just last week, the 24-year-old events planner for Burton Snowboards grabbed a camera before heading out aboard his paddleboat.
"I figured I'd get a photo of Champ," said Warda, a confident sort.
Lo, just as Warda set out about noon, Champ glided by not far from shore in about 20 feet of water. Sarah Warda, his 22-year-old sister visiting from Athens, Ohio, was able to squeeze off a quick frame, shown at the right.
"He was enormous," said Warda, of Burlington. "And fast. He just cruised right by. Didn't bother anybody."
The Warda siblings' image of Champ, which shows Ian in the background, earned them top spot in the Champ Photo Contest.
Below is Warda's winning photograph.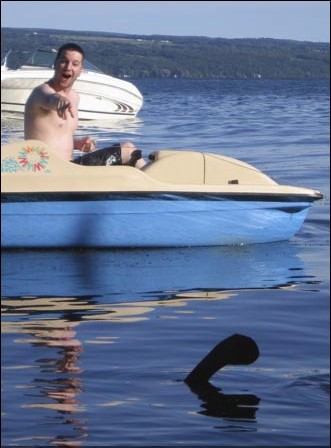 The slideshow with all of the photographs of Champ submitted is available on the newspaper's website.
And about Warda's sighting of Big Foot (aka Sasquatch, aka Yeti) last month? As mentioned in the article, Warda ia an events planner for Burton Snowboards. Last month, they hosted the 3rd Annual Burton Abominable Snow Jam, a snowboarding competition, at Mt. Hood, Oregon. The mascot for the event is the yeti, as seen here in their logo and some photos from the event.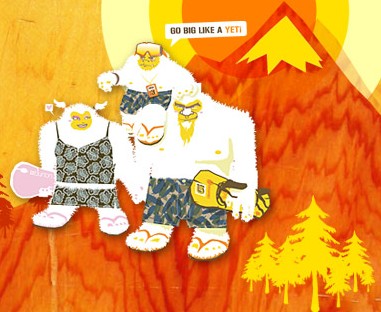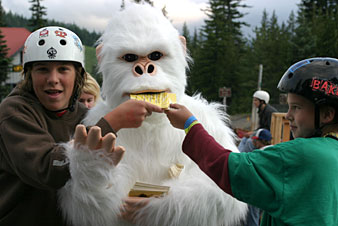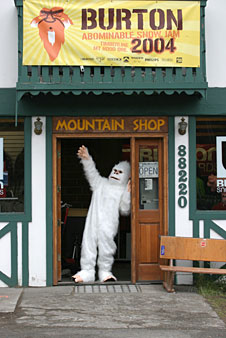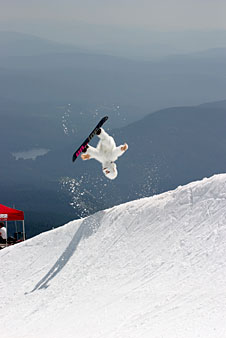 About Craig Woolheater
Co-founder of Cryptomundo in 2005. I have appeared in or contributed to the following TV programs, documentaries and films: OLN's Mysterious Encounters: "Caddo Critter", Southern Fried Bigfoot, Travel Channel's Weird Travels: "Bigfoot", History Channel's MonsterQuest: "Swamp Stalker", The Wild Man of the Navidad, Destination America's Monsters and Mysteries in America: Texas Terror - Lake Worth Monster, Animal Planet's Finding Bigfoot: Return to Boggy Creek and Beast of the Bayou.