Posted by: Craig Woolheater on October 24th, 2007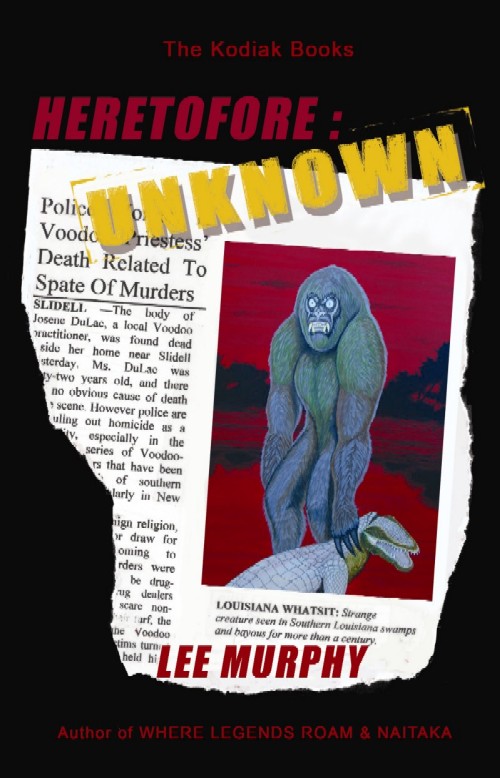 George Kodiak Rides Again

I want to thank Craig Woolheater and my friends at Cryptomundo for allowing me this opportunity to announce the release of my third book in the on-going adventures of cryptozoologist George Kodiak, HERETOFORE: UNKNOWN (Defining Moments 2007).

I know many of you are already familiar with the "Kodiak Books" series which began with WHERE LEGENDS ROAM in 2000, about the Sasquatch, and followed up in 2002 with NAITAKA, which is about Canada's Ogopogo.

In this installment Kodiak comes to Louisiana after the body of an unusual animal, believed to be the Honey Island Swamp Monster, is found inside the family mausoleum of a resident Voodoo priestess who has also died under mysterious circumstances. After dissecting the animal leaves Kodiak without a specific identity for it, he delves into the New Orleans Voodoo community to find out why this woman was keeping the animal inside her mausoleum.

Naturally, that is where all his troubles begin.

In keeping with the tradition of the first two novels, HERETOFORE: UNKNOWN contains plenty of adventure and will take the reader into another reality of which they may previously have had little knowledge. Of course it should provide readers with the most important ingredient above all else: entertainment!

I feel extremely fortunate to have been so warmly accepted by many who have been kind enough to let me know how much you have enjoyed the Kodiak Books, and while this particular installment takes a decidedly Fortean turn, I am certain it will maintain the spirit of discovery and adventure from the first two books.

Ultimately the Kodiak adventures will continue with books on the Loch Ness Monster, Mokele-mbembe, the Chupacabra, ghosts, and even UFOs.

Thanks again, everyone. I appreciate your support and friendship! Lee
Lee will be in attendance at the upcoming 2007 Texas Bigfoot Conference signing copies of HERETOFORE: UNKNOWN, as well as his other two books, WHERE LEGENDS ROAM and NAITAKA.
About Craig Woolheater
Co-founder of Cryptomundo in 2005. I have appeared in or contributed to the following TV programs, documentaries and films: OLN's Mysterious Encounters: "Caddo Critter", Southern Fried Bigfoot, Travel Channel's Weird Travels: "Bigfoot", History Channel's MonsterQuest: "Swamp Stalker", The Wild Man of the Navidad, Destination America's Monsters and Mysteries in America: Texas Terror - Lake Worth Monster, Animal Planet's Finding Bigfoot: Return to Boggy Creek and Beast of the Bayou.