Posted by: Craig Woolheater on November 19th, 2006
Loren posted the information here on Cryptomundo regarding the new book by Tony Healy and Paul Cropper, The Yowie: In Search of Australia's Bigfoot.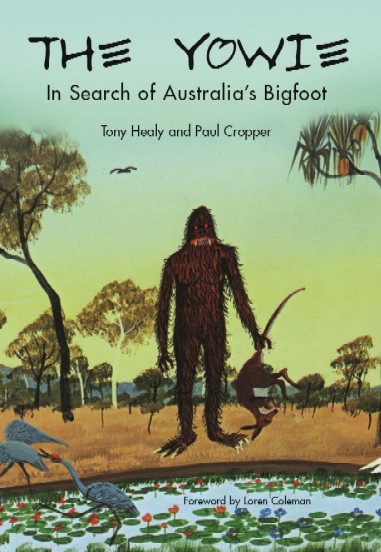 Click on the cover above to make the Yowie larger.
The Yowie: In Search of Australia's Bigfoot
Our Australian Crypto correspondent Mike Williams shares his interview with Tony Healy here.
MW: What would you rate as your best yowie report yet?
TH: It's hard to decide. One very good one involved Mrs Jean Maloney at Woodenbong, NSW, in August 1977 (Case 111 in our book). Mrs Maloney was within six feet of the towering, ape-like creature as it clutched her screaming dog to its chest. It was brightly illuminated by a 200-watt yard light. Her husband and a neighbour both heard the dog's screams and the yowie's loud, grunting vocalisations. After its ordeal, Mrs Maloney's dog was bleeding from several wounds and covered with a greasy, waxy substance that stank to high heaven. The poor creature never fully recovered its health, and died soon afterwards.
Three large, distinct footprints were found and one was photographed by Gary Buchanan of the Lismore Northern Star. Ten months earlier, two other yowies had been seen, again in good light and at close range, in a neighbouring yard, by Mrs Thelma Crewe.
MW: What are the parallels with the American bigfoot?
TH: Strange as it may seem, although there are some differences, eyewitness descriptions of the yowie and the bigfoot – and their observed behaviour – are so remarkably similar that it is tempting to assume they are very closely related. We devote quite a few pages of the book to a comparison of the two mysteries.
Read the entire interview at Mike's Strange Nation website.
About Craig Woolheater
Co-founder of Cryptomundo in 2005. I have appeared in or contributed to the following TV programs, documentaries and films: OLN's Mysterious Encounters: "Caddo Critter", Southern Fried Bigfoot, Travel Channel's Weird Travels: "Bigfoot", History Channel's MonsterQuest: "Swamp Stalker", The Wild Man of the Navidad, Destination America's Monsters and Mysteries in America: Texas Terror - Lake Worth Monster, Animal Planet's Finding Bigfoot: Return to Boggy Creek and Beast of the Bayou.