Posted by: mystery_man on October 11th, 2012
Is there an unidentified giant crayfish inhabiting Japan's lakes? For years, occasional reports of extremely large, unexplained crayfish have surfaced in northern Japan, most notably in Hokkaido's Lake Mashu.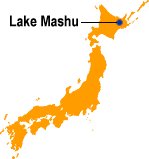 Known to the Ainu people as "Kamuy-tou," or "The Lake of the Gods," Lake Mashu is located in the northeast part of Hokkaido, Japan. It is a caldera lake, formed in the crater of a dormant volcano approximately 11,000 years ago.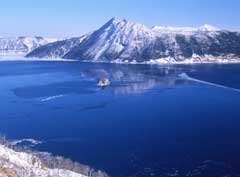 Surrounded by high, sheer cliffs, Lake Mashu lies 315 meters (1,033 ft) above sea level, is 20 km in circumference, and 212 meters (695 ft) deep at its deepest point. The lake is notable for having some of the clearest water in the world. Lake Mashu is also famous for the thick fog that veils it for most of the summer months, resulting in it's nickname "foggy Lake Mashu." The lake is quite remote, with access to the shoreline limited.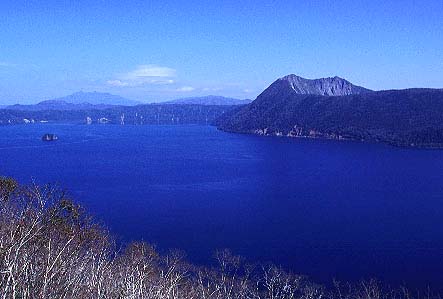 Since at least the 1970s, there have been reports of something strange in the lake. Accounts have surfaced over the years of crayfish far exceeding the size of any known to be in Japan. In 1978 and 1985, trout poachers are reported to have captured extremely large crayfish in the lake that were claimed to measure nearly 2 feet in length. In total, there were three alleged specimens gathered by these poachers, although the claims could not be confirmed due to the illegal nature of the circumstances surrounding the capture of the creatures.
Another account comes from one author of a survey of known crayfish in the lake, entitled "Crayfish in Lake Mashu, Hokkaido," who reported that he had once captured a male crayfish specimen when he was a young man which had a carapace that measured 47 cm (18.5 inches) in length. It is important to remember that this figure is only for the length of the carapace, and not the total length of the specimen, which would be much longer.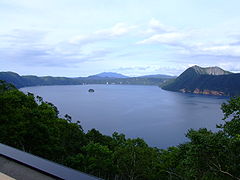 There have been other scattered reports of giant crayfish in the lake as well. In one such report, a fisherman described seeing a crayfish crawling along the bottom in the clear water of the lake that he estimated as being at least 3 feet long.
Japan has only one species of endemic crayfish, the Japanese crayfish (Cambaroides japonicus), that inhabits the cold, clean waters of lakes, ponds, and streams in northern Japan. It is not a particularly large crayfish, reaching sizes of only 4 to 7 cm (2 to 3 inches) in total length, with an average carapace length of 3.5 cm (1.4 inches). Perhaps more importantly, it is not known to inhabit Lake Mashu.
The other two species of crayfish known to live in the wild in Japan are introduced species. One is the the invasive Louisiana crayfish, or red swamp crayfish (Procambarus clarkii) from North America. It is found all over Japan, on all of the major islands. This species is reaches sizes of 5.5 to 12 cm (2.2 to 4.7 inches) in total length. It too is not known to be present in Lake Mashu.
The only species of crayfish known to inhabit Lake Mashu is the introduced signal crayfish of North America (Pacifastacus leniusculus). This species was imported to Lake Mashu from Oregon and the Columbia River system in the 1930s as a potential food source. The signal crayfish reaches sizes of up to 15cm (5.9 inches) in length, with an average carapace length of 3 to 6 cm (1.2 to 2.4 inches), far from the enormous sizes reported for the mystery crayfish of Lake Mashu.
In the summer of 1992, there was a study of crayfish in the lake. Of the 171 males and 517 females caught in tangle nets during this study, no specimen had a carapace length of more than 5.7 cm (2.2 inches). Incidentally, this species has since been introduced to other lakes throughout Hokkaido, where it is notable for posing a serious threat to native Japanese crayfish. The signal crayfish has seriously threatened the native species in many areas through predation, competition, and as a carrier of crayfish plague, a type of water mould that infects crayfish. It is so invasive that it was put on the list of alien species that are banned in Japan under the Invasive Alien Species Law enacted in February, 2006.
So what could be behind the reports of mysterious giant crayfish? The fish in Lake Mashu, such as sockeye salmon and rainbow trout, as well as the sole species of crayfish known to be there, are all introduced from elsewhere. Since Lake Mashu is a Caldera lake, there are no endemic species there. There are also no rivers or significant waterways connected to the lake. The lake is a completely isolated habitat.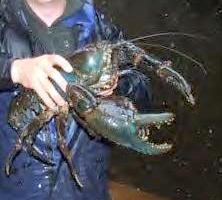 Perhaps when trying to ascertain what is going on, the first possibility to consider is other types of introduced, exotic crayfish. The world's largest species of crayfish, indeed the largest freshwater invertebrate, is the Tasmanian giant freshwater crayfish (Astacopsis gouldi), above and below.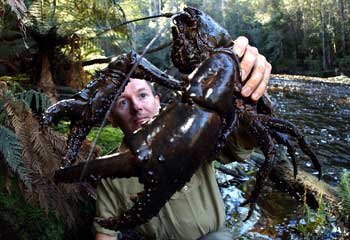 These crayfish attain average sizes of at least 40 cm (15.7 inches) in total length, but even huger sizes of up to 80 cm (31.5 inches) in total length and weighing up to 6 kg (13.2 lbs) have been recorded. The second largest is the Murray crayfish (Euastacus armatus) of the Australian mainland, which reaches overall lengths of 20 to 30 cm (7.9 to 11.8 inches) and weights of up to 2 kg (4.4 lbs). These vulnerable species are both currently protected by Australian law, and they are also banned in Japan by the 2006 Invasive Species Law.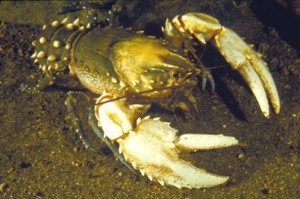 Murray crayfish
Crayfish are popular as pets in Japan, so it seems at least plausible that perhaps some unsuspecting aquarists have bought specimens of one of these Australian species and dumped them when they got much bigger than expected. However, although these Australian species are large, the sizes still don't seem to add up. Keep in mind that the measured Lake Mashu specimen mentioned earlier was recorded as being 18.5 inches long for its carapace alone (not it's total length). The total length of such a monster from head to tail would be bigger than even the largest known crayfish species.
Factors in the lake that could be contributing to such large crayfish remain unclear. One possibility is that the known crayfish in the lake are displaying some sort of gigantism, although it is uncertain what would be the driving factor for this in Lake Mashu.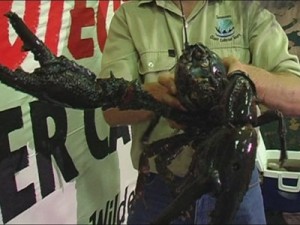 Tasmanian crayfish
Beyond insular gigantism (island gigantism) in their isolated lake environment, there other factors that could contribute to large sizes in the crayfish found there. For instance, these large sizes could come about as an adaptation for competing for scarcer food resources, which could possibly lead to delayed sexual maturity that would result in greater size. The Lake Mashu specimen that was measured was a male that was described as having exceptionally large chelae, or pincers. Since adult male signal crayfish in the lake do not exhibit secondary sexual characteristics in their chelae, this suggests that some degree of neoteny (delayed maturity) could be occurring. This means the specimen could have possibly been still growing.
The only problem with hypotheses on factors for gigantism is the time frame involved. Changes like this typically take place over a long time, and crayfish have only been present in the lake since the 1930s. Crayfish are generally fairly long lived creatures, that take many years to reach sexual maturity. This means there simply will not have been many generations born in the lake during which such changes would occur. The chances of such dramatic size adaptations developing so rapidly, and in so few generations, seem somewhat low.
Whatever they are, the giant crayfish of Lake Mashu make for an interesting mystery.
About mystery_man