Posted by: Loren Coleman on August 27th, 2007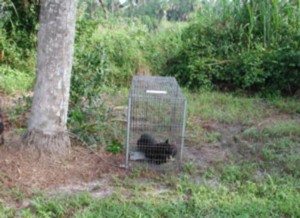 Readers of Cryptomundo are aware of the discussions of black bobcats in a specific area of Florida, and of how these reports have tracked down through the years, along with more recent appearances of melanistic felines.
Breaking news is coming to me from Mark Fraser of Big Cats in Britian (www.bigcatsinbritain.org) confirming the sightings.
Mark passes along the following August 27, 2007 Florida report from a nuisance wildlife trapper:
I am a state licensed nuisance wildlife trapper located in southern Florida. I thought you might be interested in this. On Wednesday night I was contacted by a very excited/scared land owner in Martin County, Florida. The day before something killed her 30lb male turkey. She arrived home Wednesday evening to begin searching for the carcass which she couldn't find on Tuesday. As she came out of the cane grass she saw what she described to me as a large black cat. Larger than a bobcat, more like panther size.

She was convinced that what she saw was someone's escaped black jaguar or black leopard. I headed up the next morning to search for sign of a large cat but found only bobcat size prints along the bank of the Okeechobee Waterway (St. Lucie Canal) on her property known as "The Last Stand". After doing some research I believed that what I was searching for was a melanistic bobcat.

I set up the live-catch trap baited with a fresh killed rooster. The next morning I got the cat. A 16 lb., ~2 year old, healthy male melanistic bobcat.
The cat is alive and well and currently being kept at a local wildlife center until a decision is made as to where he will end up. I have been able to track down 13 previous confirmed (either captured cats or photo evidence) records of melanistic bobcats in south and south central Florida since the 1st one in 1939.

I believe this male makes 14 and currently the only living one in captivity….Feel free to pass along this [information] and attached photos.Deron Hartman, Busch Wildlife Sanctuary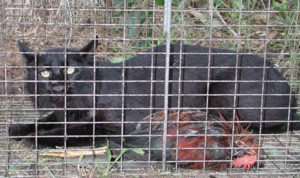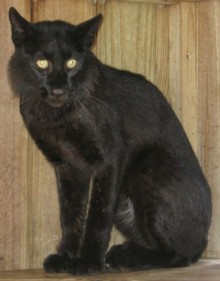 ====Update=====
Caution must be given, however, to the now surfacing media reports that this captured bobcat "explains" all the reports of black panthers.
A dispatch from Busch tonight says:
For years there have been stories of Black Florida Panthers prowling in our wilderness, but there's never been any official record they exist.

Now that mystery may be over.

A cat has been captured and researchers at the Busch Wildlife
Sanctuary say they now know what people were referring to when they
said they saw the panther.

We're all familiar with the Florida Panther, golden in color and
about 130 pounds.

You may have also heard of a "Black Panther," which has been like our
local Lochness [sic] Monster; people have said they've seen it, but it's never been caught.Busch Wildlife Sanctuary
The organization follows this catching of this bobcat with further statements that it is the solution to black panther sightings.
I sincerely doubt if this one or two county gene pool of melanistic bobcats is the source of all the reports of "black panthers" even in Florida, let alone the rest of the eastern North America. Nature is never that simplistic, although the debunkers, as projected through the media, would have us believe this to be true.
Loren Coleman – has written 5489 posts on this site.
Loren Coleman no longer writes for Cryptomundo. His archived posts remain here at Cryptomundo.