Posted by: Loren Coleman on October 27th, 2008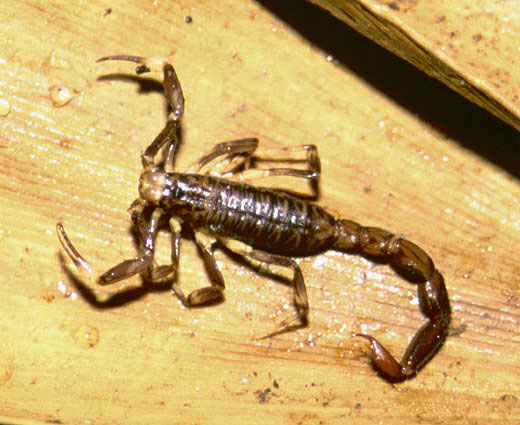 Ananteris platnicki is closely related to two of the new scorpions.
The Journal of Arachnology has published descriptions of three new species of scorpion in its latest edition online.
The three new species are:
Microtityus franckei: Described by Ricardo Botero-Trujillo and Jorge Ari Noriega
The male and female Microtityus franckei specimens were collected from Kalache Kalabria private reserve at Tayrona Natural National Park in the Caribbean region of Colombia by Noriega.
This discovery marks the first scorpion of the Microtityus genus to be found in Columbia.
Microtityus franckei is a very small scorpion. The specimens are around 10mm in length.
Ananteris arcadioi: Described by Ricardo Botero-Trujillo
The male Ananteris arcadioi specimen was found at Altamira, Puerto Gaitan, Meta Department near the center of Columbia.
It inhabits the Llanos ecoregion, which extends from the foothills of the Eastern Andes of Colombia through almost the entire course of the Orinoco River.
With a total length of 18.25mm, it's a small scorpion, but much larger than the M. franckei specimens.
Ananteris dorae: Described by Ricardo Botero-Trujillo
The female Ananteris dorae specimen was found at Reserva Natural La Planada, Nariño Department in west Columbia (near the Ecuador border and the Pacific Ocean).
It inhabits the Northwestern Andean Montane Forests ecoregion, which is among the most diverse ecoregions on the planet.
This specimen was measured at a total length of 16.20mm.
Loren Coleman – has written 5489 posts on this site.
Loren Coleman no longer writes for Cryptomundo. His archived posts remain here at Cryptomundo.