Posted by: Loren Coleman on May 31st, 2008
Chad Arment, author of Boss Snakes: Stories and Sightings of Giant Snakes in North America, passes along this new case.
The story is from the Tampa Bay's 10 News in St. Petersburg, Florida, for today.
Huge snake spotted

Hudson – The snake was spotted along Bear Creek River behind a home on Mill Creek Lane about two months ago. It's an area with manicured landscaped lots with towering mature trees surrounding it and lots of wildlife like turtles and birds.

Resident, Amy Wiegman, spent part Friday afternoon watering plants in her backyard and says "It's an absolutely beautiful spot. It's extremely beautiful."

But Wiegman says the snake sighting has her on edge. She had just moved in and was having some work done at her home recently when a worker noticed something odd.

"It was a black snake. He said it was about 15 feet long and about as thick as a man's thigh."

"I was a little shocked especially after he told me that it was eating a crane."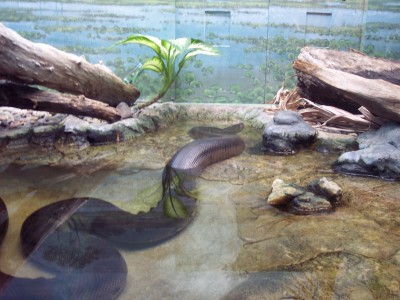 The green anaconda, here shown in the National Zoo, can appear to be black, in some settings or lighting.
Phil Goodman is the wildlife trapper who was called out to the scene after the snake was spotted. He says it was either a Burmese Python or a Green Anaconda. The Green Anaconda can get so dark that it actually looks black. The snakes are the biggest in the world and can weigh several hundred pounds. Goodman says he found tracks the snake left behind but after making several visits to the area in the following weeks he hasn't been able to find the snake.

That's got a lot of people like Ellen Smith feeling a little uneasy. "We have a lot of children around here that come along the lake and they fish all during the day. They don't even know there's a snake out here."

But the Beacon Woods Civic Association did send out letters to warn residents. The association called in the wildlife trapper and made his number available for anyone who might spot it. But Smith says she'd like to see more done. "I'm afraid to even walk out into my backyard because I have a lot of trees and I look up in the trees before I even go outside."

Smith and her neighbors should be cautious because the Burmese Python likes to slither up trees and hang out near the water. That's got a lot of people rethinking how they enjoy their waterfront property now. Wiegman says "I won't come any further than about right here to water. I watch and kind of keep my eye out and I don't come out in the evening at all."

The trapper says these types of snakes can kill people but it's uncommon. They will eat small animals, pets and anything they can fit in their mouths.

If you see one you need to get away from it and call authorities immediately. In Pasco County their animal services department does not handle calls about snakes they refer residents to wildlife trappers like Phil Goodman instead.

Goodman says neither of the snakes is native to Florida. He says more than likely someone had the snake as a pet and released it.
Loren Coleman – has written 5489 posts on this site.
Loren Coleman no longer writes for Cryptomundo. His archived posts remain here at Cryptomundo.