Posted by: Loren Coleman on June 28th, 2006
This is a classic Blobsquatch image, one captured from the Bobby Clarke video taken in Manitoba.
A reader, Sharon Hill, reminds me that this word used by so many so casually today, "Blobsquatch," happens to be "one of those great descriptive words made popular via the Internet."
But what is the exact meaning, if there is such a thing, for "Blobsquatch"? And when did the word first appear? Are some photographs that some people are calling Blobsquatch images really not?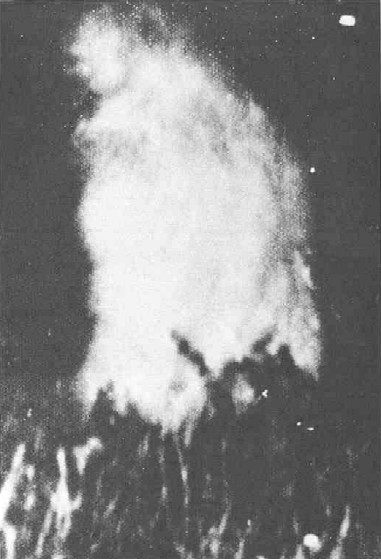 The Lake Worth Monster's 1969 photograph may actually be one of the clearer Blobsquatch photographs out there. Or is it even a Blobsquatch?
"Blobsquatch" is specifically the object in a photograph of a supposed Bigfoot or Sasquatch that has a lack of definition and detail, an illusion created by a play of light within an often unfamiliar natural environment. It is literally a "blob" (an indistinct shapeless form) that may or may not, but probably is not, a Sasquatch. The Blobsquatch seem to be shadows in the trees, dark spots in the tall grass, light-colored objects on trails, or crossing branches in the forest that assist people's imaginations in "seeing" a Bigfoot (when one might not be there). Or could they be real pictures of ill-defined Bigfoot in the woods?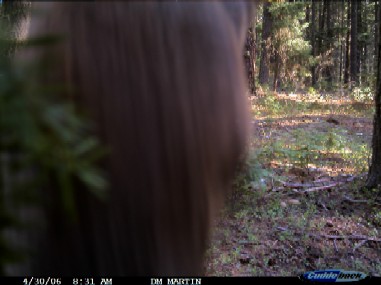 As you click this image for a full-size version, ask yourself, is this a Blobsquatch or not?
The North East Sasquatch Researchers Association (NESRA) defines a "Blobsquatch" as "anything in a picture or film which might be possibly mistaken for a Sasquatch such as a tree stump, a large rock, [and/or] a shadow."
The NESRA has even dedicated a page entirely to Blobsquatch pictures (taken from around the Internet) to show "how easy it is to claim that one has captured an elusive Sasquatch on film."
Part of my and the NESRA's meanings can be viewed as working and developing definitions for "Blobsquatch," until someone tells me there is already an extremely formal one online.
In the meantime, let's do a little more detective work about the who and the when of the word. Who first created and used the word "Blobsquatch"? Any readers have any hints? How long ago was the word coined? How long has the word been in use on the Internet or in print? How old is the term "Blobsquatch"?
Loren Coleman – has written 5489 posts on this site.
Loren Coleman no longer writes for Cryptomundo. His archived posts remain here at Cryptomundo.