Posted by: Loren Coleman on May 16th, 2006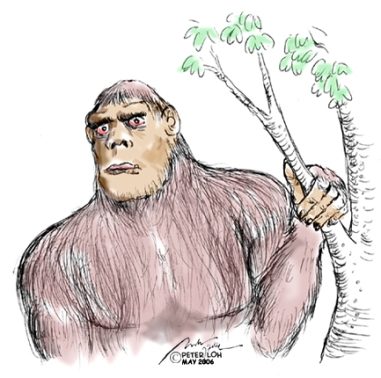 Up ahead, the quest is nearing its end. The leeches are sucking the energy from the media crew who forgot to wear their leech socks. Bees are buzzing around. Bird songs fill the air. But what's that sound?
A heavy breathing is heard. Sweat falls from the brows onto the heaving chests as the chase picks up speed. Footprints have been found, the live capture gear is at hand. The moment is here. Shooting to kill has been rejected. The searchers round a corner, and are met with an image of an unknown hominoid not unlike Peter Loh's latest best rendering above. The realization is startling. It is a Bigfoot-cum-Mawas in Johor that the local scientists have been tracking for three nights through the steamy rainforests. What now? And what happens when the creature is captured?
What are the best laid plans of Mawas, Men and Women when this moment occurs?
And has it happened before?
Perhaps it is not so much that it hasn't taken place as the process for that first actual capture of Bigfoot has not been thought out clearly? And thus the dawn of discovery of a Bigfoot-like creature breaks anew every moment this horizon is crossed again.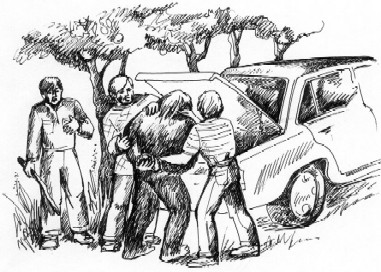 Could it be that the event has transpired before, but not in such a textbook fashion as generally assumed? Aren't most discoveries are merely accidents and coincidences turned into moments of revelation? Should we be surprised to discover things have gone badly in the past?
For example, this drawing above illustrates the case of the capturing of a Russian "Wild Man" in 1989. Four apple orchard guards secured him, and placed the unknown hominoid in their automobile's luggage compartment. This allegedly actually took place near the town of Saratov, in the heart of the Volga River Valley, Russia, a mere 17 years ago. But how is this said to have ended? After several hours they released the "Wild Man" because of the strong sickening smell from the hominoid, coming from their trunk.
Will it happen again, or can we set up a more thoughtful scientific approach when a capture occurs? How do we move such events from the mundane but typical to a more controlled situation in which humankind appreciates the earth-shaking nature of such a find?
It already seems to be taking place, right now, in Johor. The pressure to produce is there from the ever-impatient West. But in the land of the Mawas, things are progressing at their own pace. We congratulate the Malaysians for bringing their pursuit to a new level of discussion and possible fulfillment, without an unnecessary rush of innocents and the aware to the missteps of the past.
Loren Coleman – has written 5489 posts on this site.
Loren Coleman no longer writes for Cryptomundo. His archived posts remain here at Cryptomundo.