Posted by: Loren Coleman on April 1st, 2010
The headline in today's Portland Daily Sun exposes some shocking news: "Dueling cryptos: it's zoology vs. upstart 'sexology'."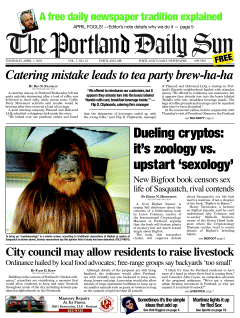 It reveals that a researcher claims that my forthcoming coauthored book "will suppress details about Sasquatch's sex life that merit a mention, if not a chapter, of the book, Bigfoot in Maine."
It seems that "Henry Yarncooler, a lecturer on Bigfoot legends, said he can't understand why [Loren] Coleman and co-author Michelle Souliere, owner of the Green Hand bookstore where the [International] Cryptozoology Museum resides, want to censor details of Bigfoot's breeding habits."
Situated on the front page, as the primary feature article, the piece goes on to quote Yardcooler: "I've learned from an inside source that Bigfoot in Maine by Coleman and…Souliere, is overlooking important research I've conducted into the little-known but important field of cryptosexuality."
The Portland paper noted that the book by "Coleman and Souliere is due for release in 2012 from Idyll Arbor Inc., Coleman announced recently on his blog (cryptomundo.com)."
To bring up "cryptosexology" is a smoke screen, Coleman said.

"This field of study long has been discarded by most serious researchers," Coleman said. "I think Yarncooler just wants attention.
The Portland Daily Sun then went on to quote a University of Southern Maine biology professor as saying:
The subject matter of cryptosexology has been reduced to jokes about the size of Bigfoot's feet relative to other parts of its anatomy. Cryptosexology isn't a serious field of study.
The author of the article, Harry N. Henderson, could not be reached for comment about his piece. An attempt was made to discover the reasons behind why this feature only appeared in the e-edition and the print edition of today's paper, but not online.
Yarncooler also could not be located to clarify his inflexible, hardened position.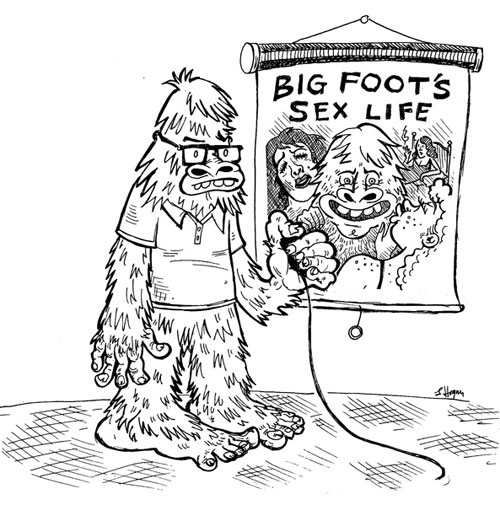 I was especially disturbed by these charges as my openness to this topic is quite apparent from my indepth examination of cryptosexology in "Sex and the Single Sasquatch," in my 2003 book, Bigfoot! The True Story of Apes in America.
My discussion of Bigfoot sexuality in that book was based, in part, to the reaction I received to an Ohio lecture I gave where I showed the following slide of the Harry Trumbore's drawing of the Pennsylvania Bigfoot called "Kong" from The Field Guide of Bigfoot and Other Mystery Primates.
To support Loren Coleman's continued cryptosexology research, please do not hesitate to click and…
Wink.
Loren Coleman – has written 5489 posts on this site.
Loren Coleman no longer writes for Cryptomundo. His archived posts remain here at Cryptomundo.