Posted by: Loren Coleman on June 19th, 2008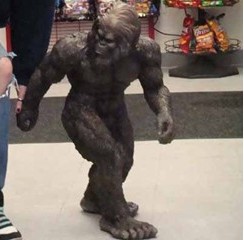 A theft at a convenience store in Armstrong county, Pennsylvania, has an entire town on edge, but the bad guy didn't get away with money.
Nicole Hosack, owner of Niki's Quick Six store in Spring Church, near Pittsburgh, Pennsylvania, says someone made off with the store's mascot of sorts – a three foot tall wooden Sasquatch.
"They walked over to [the] Sasquatch while my employee was paying attention to wrapping up food. And they put [their] coat over it and walked out the door," Hosack said.
The statue was a Christmas present for the owner's husband and it became a popular photo opportunity.
"For someone to go and take something that means something so much to us, it's just a shame, and we just want him back, we really do," Hosack said.
A missing Sasquatch report has been filed with Kiski Township Police. The store's owner is offering a $100 reward for the statue's safe return. (KDKA)

My investigative detective eyes immediately have identified the missing "Sasquatch statue" as the ©"Bigfoot, the Garden Yeti" Sculpture, produced by Design Toscano. (Cryptomundo congratulates Toscano for changing their former unfortunate spelling use of "Big Foot" in their 2007 materials to "Bigfoot" in their present catalogue.)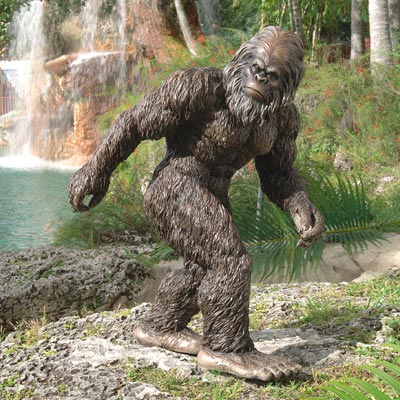 Spring Church police should be looking for a statue that is 19½" W x 19″ D x 28½" H, weighing 12 pounds, and is valued at $98.95 (plus shipping).
The reward, therefore, is almost the same as the actual cost of obtaining a new replacement statue. But then, there's the important sentimental value that this was a special gift, and well, that is p-r-i-c-e-l-e-s-s!

See video here.
Loren Coleman – has written 5489 posts on this site.
Loren Coleman no longer writes for Cryptomundo. His archived posts remain here at Cryptomundo.