Posted by: Loren Coleman on May 24th, 2006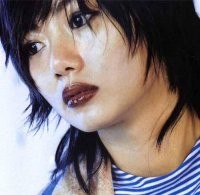 A special little movie has been invited to screen at the Cannes 2006 Director's Fortnight that is of interest to Cryptomundo. It is entitled The Host (Gue Mool), and directed by Bong Joon-ho, 37, of South Korea.
Bae Doona, 27, model-turned-actress (above), who has had strong parts and gotten rave reviews, stars, along with lead David Joseph Anselmo.
Perhaps under-whelming in its initial description, the Hollywood Reporter called The Host "a sci-fi horror about a mutant rising from Seoul's Han river…full of special effects." But then noted it has been described by Pere as "an auteur film and a very intelligent movie."
Today, through a few additional notes in the Empire, a bit more is being revealed. As it turns out, The Host is "a wonderfully idiosyncratic creature feature, concerning the rampage of a giant, tadpole-thing in Seoul's Han River."
Bong Joon-ho appears to have been inspired by cryptozoology in his making of The Host. "I've always been a fan of creature films," he told Empire, "especially Godzilla. But what inspired me to make it was imagining what it would be like if the Loch Ness Monster lived in the Han River."
Han River or Han Gang, is a river in Korea, passing through Seoul and entering the Yellow Sea, the northern part of the East China Sea. Lake Monsters are known from China, immediately north of Korea, in Tian Chai, as well as, intriguingly, a "Giant Toad Lake Monster" of Wuhan Lake. While news of Lake and River Monsters rarely are heard from Korea, as I mention in Cryptozoology A to Z, the area is known for encounters with the Tzuchinoko, an unknown species of large snake sighted in the upper elevations of Korea and Japan. Perhaps it is not such a stretch to think a watery cryptid could be haunting the Han River?
Bong's new film is complex, of course, more than just about a tadpole-shaped cryptid, and is having broad appeal at Cannes. The director explained to the London-based Empire before the film was screened, "the star of the show isn't the monster so much as the dysfunctional family (including an alcoholic ex-student, a narcoleptic drop-out and a bronze-medallist Olympic archer) who rather chaotically set out to try and vanquish it."
According to the Empire, The Host works "as a slapstick black comedy, a touching family drama and a horror – while making political jabs at American interventionism along the way – it's certainly the most interesting and entertaining film" they had seen at Cannes so far.
Cineclick Asia is reporting on May 24th that The Host has "an $11 million budget, has creature effects by San Francisco boutique The Orphanage with John Cox's Creature Workshop and a scannable maquette by Weta Workshop. The Host is skedded for Korean release through Showbox in July and is assured of a major Japanese release through Kadokawa Herald. Production is by Chungeorahm with coin from Japanese investor Happinet and int'l sales by Cineclick Asia."
This cryptozoologist looks forward to seeing Bong's The Host swim over to America.
Loren Coleman – has written 5489 posts on this site.
Loren Coleman no longer writes for Cryptomundo. His archived posts remain here at Cryptomundo.