Posted by: Loren Coleman on February 11th, 2008
Komodo dragons on display at the American Museum of Natural History, New York City.
During the last week, a released, escaped, or very out-of-place giant Komodo dragon has terrorized Papua New Guinea's second largest city and caused a massive search by law enforcement officers and local officials around Lae city on the north-west coast.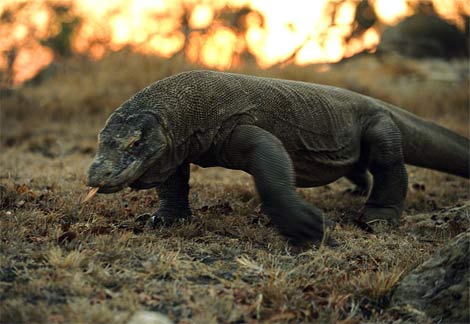 The Komodo dragon (Varanus komodoensis) is one of cryptozoology's "classic animals of discovery," having only been verified less than a hundred years ago, after a specific search for this new species.
Now, it is the source of some excitement far from its known home.
"Some people sighted this creature and told police. At the moment with Morobe administrators we are trying to search for the animal," Lae Police Commander Inspector Ben Neneo told the local media. "They want to capture it but if needs be they will kill it. Some locals are scared because it's the first time they have seen this (type of) creature."
The origins of the beast are somewhat cloudy. An expatriate was allegedly illegally keeping the dragon at his home, it was reported. Police believe several sightings by locals could mean two lizards are on the loose.
In an understatement of the week, Dr. Gae Gowae from PNG's Department of Environment said it was "an unusual case" because the endangered species was found on Komodo Island in Indonesia.
Now, Monday, February 11, 2008, comes an update:
It was still at large and creating fear amongst the people.
Much of this was owed to the media frenzy over the dangers posed by the endangered 1.5m long monitor lizard.

People from all corners of the city were talking about the lizard.

Yesterday, a team of nine soldiers assisted by village hunting dogs went back into the bushes to search for the third day.

Accompanied by provincial disaster officers, quarantine officers and local village guides, the fully armed soldiers scoured the bushes of Butibam but could not locate the keen-sensed reptile.

New sightings were reported in the bushes further away from Butibam towards Malahang last Saturday evening while the search of a main suspect's house by police late last Friday was in vain.

Police obtained a search warrant after the owner denied them a thorough check of his high-fenced and suspicion-raising premises at Eriku.

Police and authorities are still baffled as to the identity of the person alleged to have brought the animal into PNG.

A witness from Butibam revealed being taken to the police station to identify two witnesses but said these were not the person she saw for a brief moment. Police said the only hope of finding the smuggler would be from eyewitness identification and were calling on anyone with information leading to his identification, to come forward.

Four youths residing at Busurum Compound claimed to have briefly sighted the dragon while at the garden and screamed in terror.

Rikas Poka, 18, said: "It was after 5pm and we decided to chew sugarcane before heading for the house when we heard someone cutting grass."

His friend Angas Kisia thought it was his mother as their garden was nearby and went over to check.

"I saw something drop suddenly and I turned and saw this massive body like a small coconut trunk with brown skin and a very long tail slide through the grass … it moved so fast … I screamed …" Angas said.

His screams brought his friends who were nearby and they arrived to see the animal's tail disappear among the grass.

A family claimed sighting the animal three weeks prior to it being reported in the media.

Footprints allegedly belonging to the monitor, have also been sighted.
Villagers from Butibam, Kamkumung, Yanga and Wagang as well as all settlements in between were not going to gardens and rivers during the day and living in fear at night.

Although they noted with stifled glee that there was a marked drop in crime at night, they were still scared.

The komodo is an endangered species endemic to Indonesia and is protected by the Convention on International Trade in Endangered Species (CITES).Army called in to hunt dragon, The National, Feb. 11, 2008.

The Wild Safari Komodo Dragon replica cryptia.
Loren Coleman – has written 5489 posts on this site.
Loren Coleman no longer writes for Cryptomundo. His archived posts remain here at Cryptomundo.