Posted by: Loren Coleman on March 2nd, 2008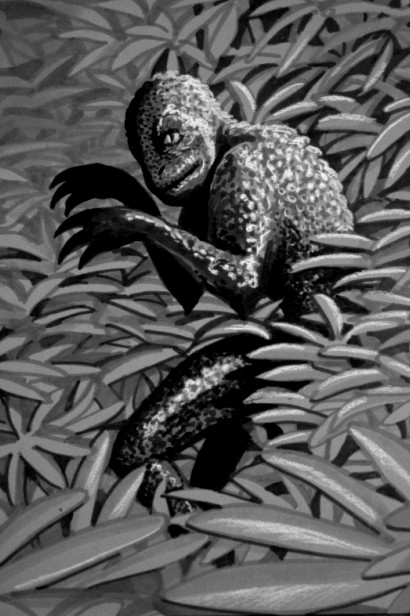 Wetzel's "It" by Bill Rebsamen from Mysterious America (page 273).
In 1970, John A. Keel's book Strange Creatures from Time and Space was first published. I'd been corresponding with Keel for several years by then, and had been feeding him reports, cases, and sightings of reptilian creatures in North America. Keel turned my files into over a third of the foundation for his wonderful Chapter 10, "Creatures from the Black Lagoon."

For decades, I'd been gathering and analyzing accounts of these cryptids. I began to write about them in Fortean Times, and then in my books, honoring Keel's terminology, by calling them "Creatures from the Black Lagoon," in Chapter 6 of Curious Encounters (1985). I updated the collection in Chapter 5, "Lizardmen," in my Mothman book, which came out in 2002.
Between 1985 and 2002, despite my keen awareness that reptilian-styled creatures were reported in this country, I was not ready for how significant and sensationalized the whole topic would become with merely one case from South Carolina in 1988.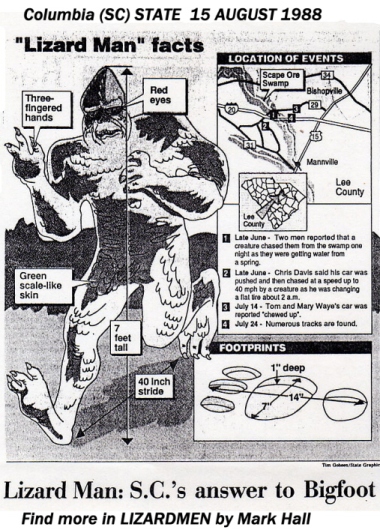 The sighting of the Lizard Man of Scape Ore Swamp (also known as The Lizard Man Of Lee County) was a major media event. First with one sighting and then others, it was said to be a humanoid cryptid, perhaps a merbeing, inhabiting areas of swampland in and around Lee County, South Carolina.
The Lizard Man was described at the time as being quite tall, bipedal, and having what appeared to be scaly skin and glowing red eyes. In the popular media rendering, it was said to have three toes on each foot and three fingers on each hand that end in long black claw-like nails.
The first reported sighting of the Scape Ore creature occurred on June 29, 1988, but was soon followed by others, including information that was revealed about an earlier sighting in 1987.
Now, almost exactly twenty years after the initial media flap of the Scape Ore event, is the Lizard Man back?
It appears something is afoot.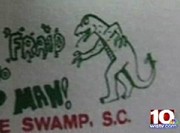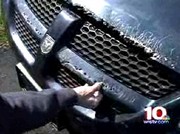 Bishopville, S.C.- After a nasty surprise Thursday morning [Feb. 28, 2008] for one Bishopville resident, she's wondering if the "Lizard Man" is back.

Dixie Rawson of Bishopville sent WIS News 10 an e-mail about a big surprise she got at her home Thursday morning. "The whole front half of our van is chewed up. There are bite marks right through the front grill. Both sides of the van above the wheel wells were bitten and the metal is bent like a piece of paper."

It reminded Dixie of the local legend of the "Lizard Man" that stretches back for decades. Now some are wondering if the Lizard Man is back.

The legend blows in with a brisk winter wind, sending chills through neighbors in Lee County.

"I couldn't believe it, I just couldn't believe it," says Bob Rawson. He looks down at the blood and claw marks on his van. "He literally bit, you can feel where he bit straight through here."

Who is "he"? It's a point of renewed debate in the area. Some are sure they know the only creature capable of this kind of damage is the Lizard Man.

If it is the Lizard Man, he's back nearly two decades after first being spotted near Scape Ore swamp.

No one's ever been able to confirm the account of the seven-foot monster with green skin, three toes and a three clawed fingers.

In addition to the car damage, the Rawsons didn't find their cats in the boxes where they usually sleep. They did find the towels inside shredded, and the same story with the morning paper. Whatever did this, the Rawsons aren't taking any chances.

His Glock loaded, Mr. Rawson is ready to shoot what he feels is most likely a bear. Lee County Sheriff E.J. Melvin says it could be a coyote, but then again, "All the scratch marks, people are saying, 'Sheriff, it's Lizard Man.' Don't know. It's hard to say."

Several of the Rawsons' 20 plus cats have also disappeared. They're hoping they were just scared away. "Lizard Man Returns?" by Dan Tordjman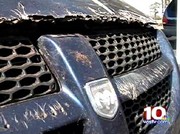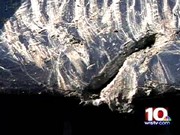 Loren Coleman – has written 5489 posts on this site.
Loren Coleman no longer writes for Cryptomundo. His archived posts remain here at Cryptomundo.