Posted by: Loren Coleman on October 24th, 2007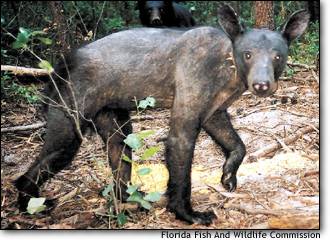 The image here was posted to Cryptomundo as "Créature de Jacobs" and noted as being of a bare bear. It was added to the site to help those people trying to figure out what the latest blobsquatch photograph posted over at the BFRO was, which was being called a "juvenile Sasquatch."
I find it amazing that certain individuals started throwing out the words "Chupacabear," "detective work," and "photoshopping" with regard to this above photograph.
The Florida Fish and Wildlife Commission photograph was employed, on occasion, with a news story coming out of Florida four years ago, about routine sightings of mangy bears. One example of this was published by National Geographic News, and is still online as "'Balding' Bears: Mangy Mystery in Florida," by Brian Handwerkfor, National Geographic News, January 14, 2003.
The animal is a bear with mange. No trickery was put forth, and it is rather incredible a few people could not believe what was right in front of their eyes with the above.
No photoshopping, no Chupacabear, no juvenile Sasquatch: sometimes a bear is merely a bear.
Yes, I think that applies equally to the Florida bear here and the Jacobs' photographs, as well.
See Craig's previous posts for more about the Jacobs' photographs.
Loren Coleman – has written 5489 posts on this site.
Loren Coleman no longer writes for Cryptomundo. His archived posts remain here at Cryptomundo.