Posted by: Loren Coleman on April 12th, 2009
Scott Corrales has translated a new report of a "Batman" being seen in Mexico, as recently as March 2009. It is said to look like this: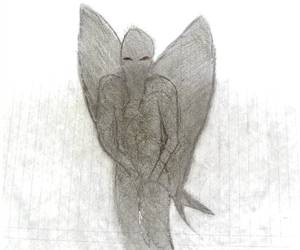 "Mexico: State of Chihuahua Terrorized by 'Man-Bat' – A Report" by Professor Ana Luisa Cid, details that the creature is a "very tall entity, standing some 2 meters tall, with two pairs of wings (one pair larger than the other). Its face is covered in fur and has red, bloodshot eyes. Also reported are a pair of small, kangaroo type hands that it held loosely, as though it lacked any strength in them."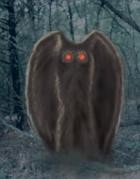 © Loren Coleman 2002
Professor Cid said, "Many think that it was just a myth, while others associate it with Mothman."
The story may be seeing an unfolding of incidents as bizarre as those mentioned in The Mothman Prophecies: An Investigation Into the Mysterious American Visits of the Infamous Feathery Garunda (New York: Saturday Review Press/E. P. Dutton, 1975).
To read Corrales full translation of the news, please see here.
++
Updated:
There seems to be full-scale panic over the above or another Batman seen in La Junta, Guerrero, Mexico. The witnesses of this winged humanoid with a fur-covered face and a height of 2 meters are also tying the reports to local livestock deaths.
"This creature was seen in the vicinity of Cimbraplay, near Saenz Guerrero, where several sheep were found dead in recent days at three different ranches. They had all been slain in the same fashion: a large cut to the neck and another on part of the tail," reports El Heraldo de Chihuahua.
Fuller details are available here.
Appreciation to PH for the heads up on this news, and to the work of Scott Corrales for his bicultural investigative efforts.
Happy Easter, Passover, and Mothman enlightenment, which happens every April, it appears. Thank you for your support and do today…
Loren Coleman – has written 5489 posts on this site.
Loren Coleman no longer writes for Cryptomundo. His archived posts remain here at Cryptomundo.