Posted by: Loren Coleman on February 19th, 2009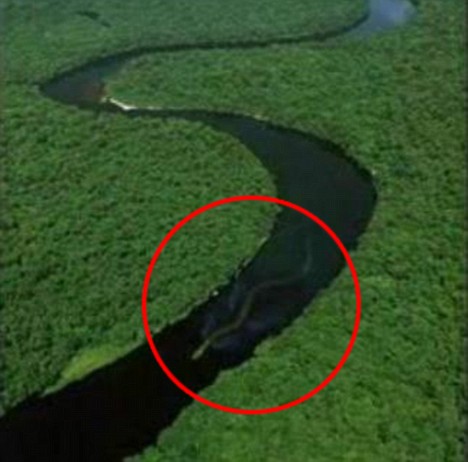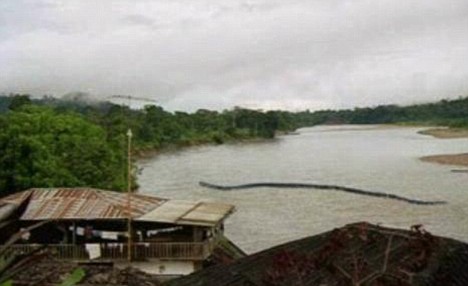 Photographs have allegedly been taken of a giant serpentine animal, apparently a snake, near Ulu Rajang on the Baleh River in Borneo, we are suppose to believe. The images, taken by Sibu, a member of a disaster team monitoring flood regions by helicopter, has sparked Internet chatter and media debate.
Reportedly the photographs of the huge snake were taken at 5.30 pm, on January 31, 2009, at one of the Sungai Baleh tributaries from the helicopter. But indeed, they are old photos, which have been floating around the internet since at least 2007, er, make that 2002. See YouTube url noted, below.
Even the rather credible The New Straits Times newspaper in Kuala Lumpur and the Daily Mail of the UK have asked readers for comments about the photos. No reason not to show it here at Cryptomundo and put this one to rest!
Discussions have been about whether the photos are genuine or merely the work of computer photoshopping-type software. Some have said it is merely a log.
As one writer at The New Straits Times asked: "A log can't be that winding, can it?"
Others have suggested it's a speedboat, but this has been dismissed because of the twisting wake.
According to legend, as mentioned at sites such as The New Straits Times and The Broken Shield, the Nabau is the local name for this snake said to be more than 100 ft in length and with a dragon's head and seven nostrils.
As I have mentioned here recently, with the Columbian discovery of the giant 45 ft long fossil snake, Titanoboa, there have been new accounts of a 39 ft snake being sighted in the jungles of Columbia. Should we be surprised an old hox has resurfaced?
Now this news from the rainforests of Borneo slithers into our awareness.
Sources: Daily Mail; The Broken Shield; The New Straits Times (article appears to have no current links now).
Thanks to Jason Pritchett for the initial heads up.
++++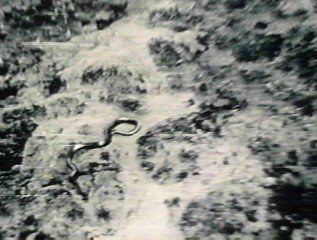 So as not to create any confusion, directly above is the famed photograph taken by a Belgian helicopter pilot, Remy Van Lierde, allegedly during a patrol over a river in the Republic of Congo in 1959. The snake he witnessed has been estimated to be about 40-50 feet long.
Loren Coleman – has written 5489 posts on this site.
Loren Coleman no longer writes for Cryptomundo. His archived posts remain here at Cryptomundo.