Posted by: Loren Coleman on March 21st, 2008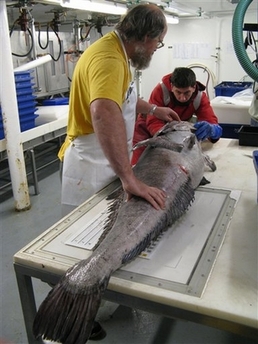 National Institute of Water and Atmospheric Research scientists Brent Wood (NIWA fisheries scientist, left) and Stefano Schiaparelli (Italian National Antarctic Museum taxonomist, right) examine an Antarctic toothfish (1.81 m long, 57 kg) in Tangaroa's wet lab in Antarctic waters.
Found: giant jellyfish with 12-foot tentacles, large sea spiders, huge sea snails, and 2-foot-wide starfish.
Breaking news is that incredibly large new species have been found in New Zealand's Antarctic waters. Of the 30,000 specimens collected, hundreds might turn out to be new species.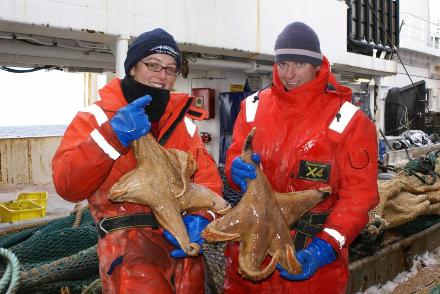 National Institute of Water and Atmospheric Research team members Sadie Mills (NIWA curatorial technician, left) and Niki Davey (NIWA marine ecologist, right) hold giant Macroptychaster sea star (starfish) recently found in Antarctic waters.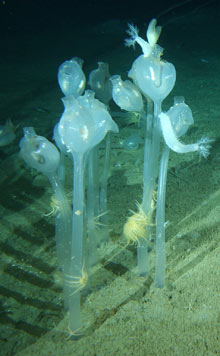 Tunicates, animals that resemble glass tulips, were photographed in Antarctic waters by Australian scientists taking part in a census of marine life in January 2008. (Martin Riddle, Australian Antarctic division/Associated Press)
And you only thought that it was the entryway to the Hollow Earth that would be found!?
Loren Coleman – has written 5489 posts on this site.
Loren Coleman no longer writes for Cryptomundo. His archived posts remain here at Cryptomundo.