Posted by: Loren Coleman on May 20th, 2010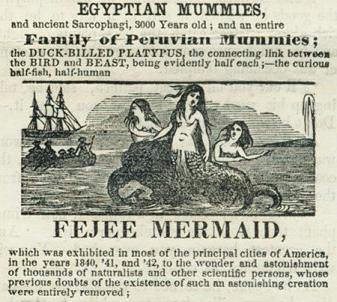 P.T. Barnum's FeeJee Mermaid got people from all over to travel to New York City. Now the P.T. Barnum movie's one and only FeeJee Mermaid might be assisting to get folks to travel to Maine. However, Bigfoot seems to be the big draw, most of the time.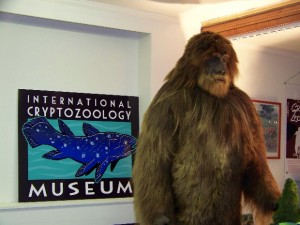 New York Magazine has published their annual "Spring Travel 2010 – Six Vacation Ideas for Families."
Here's what they're saying in New York about one location you all know about, nowadays:
Portland, Maine
Learn the truth about Bigfoot (maybe) and the right way to eat lobster.

Not that you'd ever mistake Portland for Brooklyn—not with that gorgeous, rugged scenery—but the Maine town's population of scruffy artists, young families, and ardent locavores seems awfully familiar. After taking in downtown's must-stops—there's a great children's museum next door to the Portland Museum of Art —meander down Congress Street to see the acrylic-and-pastel Johnny Cash portraits at Space Gallery and the oddball Bigfoot exhibit at the just-opened International Cryptozoology Museum….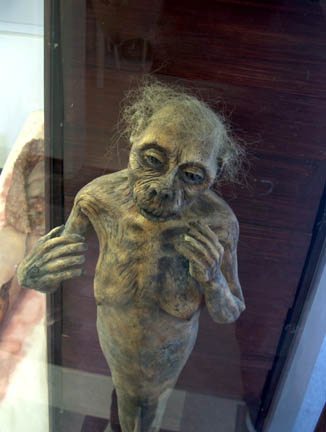 +++
Help make us better!
Assist us and please donate today, by clicking on the button directly below.
Support cryptozoology locally, think cryptids globally!
If you would like to support the International Cryptozoology Museum, you should know that your donations go directly to our operating costs. Contributions of funding, new display items, and time as a volunteer are always appreciated, whether you are local or part of the greater international cryptozoology community in which we exist.
Deep appreciation to you!
Loren Coleman – has written 5489 posts on this site.
Loren Coleman no longer writes for Cryptomundo. His archived posts remain here at Cryptomundo.