Posted by: Loren Coleman on March 25th, 2008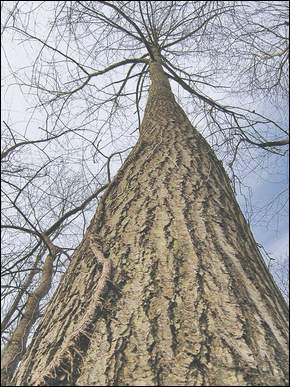 Ohio has a secret, which has been revealed a bit. A secret tree, that is. The state has kept their secret for seven years. They retain part of the hidden knowledge about the above pictured tree, because they aren't telling anyone where it is located.
This Ohio treasure's existence was closely guarded until last week when the director of the Ohio Department of Natural Resources revealed that a full-sized American Chestnut tree still stands in a marsh near Lake Erie.

For tree experts, it's a big deal.

American chestnuts that grew up to 120 feet once accounted for about 25 percent of the forests in the eastern half of North America until a fungus wiped out all but a few.

"They are often referred to as the redwood of the east because of their tremendous size," Gary Obermiller, a regional manager for the Division of Natural Areas and Preserves.

The fungus was first detected in 1904 in trees in New York City, and by 1950 some 3.5 billion trees – about 90 percent of the species – were dead.

Only a few trees had resistance to the fungus and survived.

In Ohio, most American chestnut trees were found in the eastern half of the state.

The state's largest existing chestnut tree – known only to a few until last week – is in Sheldon Marsh, a 465-acre state nature preserve about midway between Toledo and Cleveland.

The tree stands 89 feet tall and has a 5-foot circumference. "To our knowledge, we don't have any that come close to this size," Obermiller said.

Most surviving chestnut trees are small, sprouting from the roots of trees killed by the fungus.

Steve Maurer, the new chief of Natural Areas and Preserves, decided the public should be told about the tree, Obermiller said. "He realized this was a very special tree," Obermiller said.

Maurer has asked the American Chestnut Foundation if it wants samples of the tree to determine if the tree is resistant to the chestnut blight, Obermiller said.

The tree produces fruit, but the seeds aren't viable because there isn't another tree to pollinate it, he said.

Natural resources director Sean Logan let it slip last week that the tree exists. He said during a meeting of the Ohio Lake Erie Commission that he was going to visit it later that day.

But the exact site is still protected.

State officials want to make sure the tree remains, and there is an eagle's nest in it.
Someplace out there in Sheldon Marsh may be a cryptid black panther staring at this large Chestnut tree, and wondering what all the fuss is about.
Loren Coleman – has written 5489 posts on this site.
Loren Coleman no longer writes for Cryptomundo. His archived posts remain here at Cryptomundo.