Posted by: Loren Coleman on June 18th, 2007
Rock, paper, Nessie.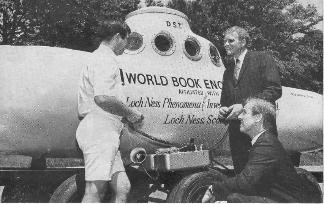 Despite early Loch Ness Monster reports to the contrary in newspapers yesterday, there are hints that something cryptozoological did occur during the recent musical concert, Rock Ness.
The usual things happened when a crowd of nearly 35,000 people gather. One man found unconscious under apparently "no suspicious circumstances," died yesterday in a local hospital. A few people, seven to be specific, got arrested for "drugs charges and breach of the peace." Lots of rock fans enjoyed two days of music in Scotland from 30 acts on five stages. It was just your typical outdoor music event. Almost.
Some people also reportedly saw Nessie, the Loch Ness Monster, after all, allegedly.
A £1 million bounty from the bookmaker William Hill has netted 30 sightings of the Loch Ness Monster in just 24 hours from festival-goers. Fans were offered "Nessie Snapper" cameras to keep an eye on the water for the elusive creature. – by Malcolm Law, - "Loch Ness Rock Festival Declared a Success Despite Man's Death," Scotsman, Monday, June 11, 2007
No details are available yet on the 30 Loch Ness sightings. Be prepared, however. Since Scottish whisky is often one of the taglines on stories about Nessie sightings, why should anything be different in future accounts regarding these Rock Ness eyewitnesses, except with drug use substituted for drinking?
Loren Coleman – has written 5489 posts on this site.
Loren Coleman no longer writes for Cryptomundo. His archived posts remain here at Cryptomundo.