Posted by: Loren Coleman on September 27th, 2011
Coming to a DVD near you on October 4th, Snow Beast (2011)! Will you be viewing this film?
Snowbeast was a television movie made in 1977. It appears that Snow Beast (2011) is a variation on or slight re-make of that earlier film.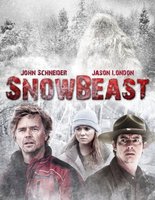 In the Snow Beast 2011 version, Jim (John Schneider, "Dukes of Hazzard") and his research team are noted to be studying the Canadian lynx every year. This year he has to take his rebelling 16-year-old daughter, Emmy (Danielle Chuchran, You're So Cupid!), with him. But the lynx are missing. As Jim and his team–with the help of a local ranger (Jason London, Dazed and Confused)–try to find out why, something stalks them: a predator no prey can escape. SunWorld Pictures (from Archstone Distribution) has slotted the PG-13 foray into killer Yeti territory for an October 4th release date.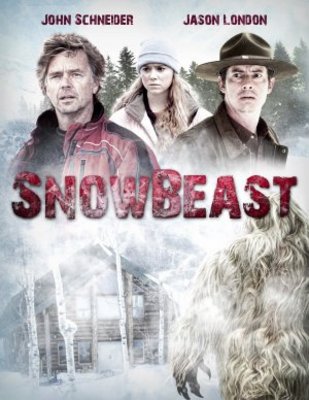 The 2011 Snow Beast's director is Brian Brough, the scriptwriter is Brittany Wiscombe, and the main actors are  John Schneider, Jason London and Danielle Chuchran.
The teleplay was written by Joseph Stefano, who wrote the script for Alfred Hitchcock's classic 1960 thriller Psycho. Stefano reportedly used a book by Roger Patterson (famed for his encounter with a Bigfoot in 1967) as his primary inspiration, though no credit is given.
Snowbeast was directed by Herb Wallerstein, a veteran of many television shows such as I Dream of Jeannie, Star Trek, The Brady Bunch, and The Six Million Dollar Man.
The plot is straightforward enough. A ski resort in the Colorado Rockies has its annual winter carnival spoiled by a series of vacationers that are being brutally murdered by an unknown animal. The local sheriff (Clint Walker) believes that the culprit is a legendary creature, a ravenous white Yeti or Snowman. The owner of the ski resort says there is no such being because she doesn't want to lose her business. Either way, the creature must be stopped as it is continuing its attacks.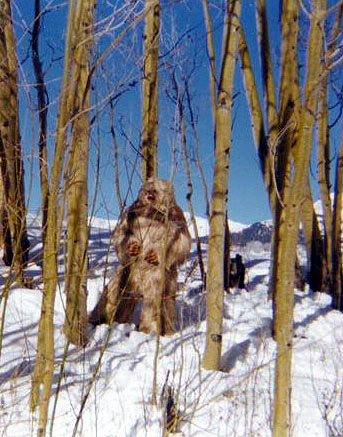 1977′s Snowbeast (Photo credit)
In the film's climax, the Yeti attacks Gar Seberg (Bo Svenson) who shoots it with a revolver. However, the Yeti survives the shots, and, out of ammunition, Gar picks up a ski pole and impales the beast, causing it to fall off a mountain, killing it. Gar and his wife, Ellen Seberg (Yvette Mimieux) embrace happily, while the rest of the group looks on.
Ah, just another Hollywood happy ending, except for the Yetis, I suppose, a la' 1970s' jumpsuit-style. I wonder how the 2011 Snow Beast will end?
Thanks for a hint of a tip about this from Henry Stokes.
Loren Coleman – has written 5489 posts on this site.
Loren Coleman no longer writes for Cryptomundo. His archived posts remain here at Cryptomundo.