Posted by: Loren Coleman on March 8th, 2008


Guest blog from Japan by Brent Swancer:
In light of the recent blog on the Iriomote wildcat, I thought people might be interested to know that there is another type of wildcat living on Tsushima island in Japan, which lies on the western side of Kyuushu island, between Japan and Korea.

The endangered Tsushima wildcat is considered to be a subspecies of leopard cat and is thought to have arrived from the Asian continent around 100,000 years ago. Although the exact taxonomy of the cat is disputed, it is a different subspecies from the Iriomote wildcat.

The cat was designated as a national treasure in 1971 and declared an endangered species in 1994. Over the years, it's population has dwindled due to land development and the building of roadways, with cars being one of the major killers of the cats. Current estimates put their numbers at fewer than one hundred individuals.

Interestingly, the cats live mostly in the Northern part of the island. They were thought to have been wiped out in the Southern part since 1984, when the last known specimen from there was found as road kill. None were seen in the Southern area until 2007, when a set of automated trail cams commissioned by the Environmental ministry caught one of the elusive cats on film there, which has given hope that perhaps they have either held on or are repopulating that area.

Tsushima island has a land area of 273.6 square miles and a population of just under 40,000 people.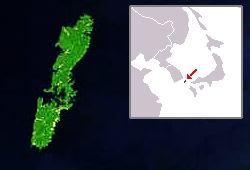 For clarification, here is a specific subspecies breakdown:
There is a "new" subspecies of leopard cat, called the Tsushima cat, which lives in Tsushima, a small island between Japan and Korea. It is considered to be the same subspecies as the Manchurian cat, except just a little darker in coloration. They hide in the forests on the mountains of this small island, where they remain unpersecuted.
Prionailurus bengalensis bengalensis — India to Indo-China and Yunnan.
Prionailurus bengalensis borneoensis — Borneo leopard cat; has reddish hue to coat.
Prionailurus bengalensis chinensis — China and Taiwan
Prionailurus bengalensis euptailura — Far east, eastern Siberia, aslo known as the Amur Leopard cat
Prionailurus bengalensis horsfieldi — Kashmir to Sikkim
Prionailurus bengalensis manchurica — Manchurian leopard cat; lives in dense tropical forests.
Prionailurus bengalensis trevelyani — North Kashmir to South Baluchistan, Pakistan
Prionailurus bengalensis javaensis — Java and Bali; dull greyish coloration.
Prionailurus bengalensis minutus — Philippines
Prionailurus bengalensis sumatranus — Sumatran leopard cat; lower spot density.
Loren Coleman – has written 5489 posts on this site.
Loren Coleman no longer writes for Cryptomundo. His archived posts remain here at Cryptomundo.