Posted by: Loren Coleman on February 19th, 2009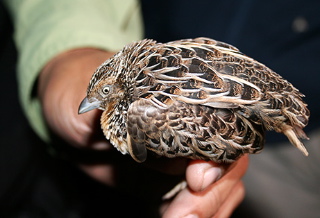 A rare Worcester's buttonquail (Turnix worcesteri), a probable female, which is also locally known as the Philippines quail, is shown being photographed while being held by a bird hunter in Caraballo (above).
The bird, thought to be extinct, was photographed for the first time in the Philippines, and then sold to a poultry market as food.
Found only on the island of Luzon, Worcester's buttonquail was known solely through drawings based on dated museum specimens collected several decades ago.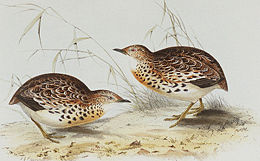 (Turnix sylvatica)
Locally called "Pugo", these birds are known to inhabit rice paddies and scrub lands near farm areas because of the availability of seeds and insects that they feed on regularly. The Worcester's buttonquail males are characterized by black heads with white spots, a brown or fawn colored body and yellow legs. The females are brown with white and black spots.
These birds are very secretive, choosing to make small path ways through the rice fields, which unfortunately leads to their deaths as well, as they are hunted by children and young men by means of setting spring traps along their usual path ways.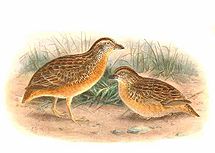 (Turnix pyrrhothorax)
Scientists had suspected the Turnix worcesteri species, listed as "data deficient" on the International Union for Conservation of Nature's 2008 Red List, was extinct.
Wild Bird Club of the Philippines President Michael Lu asked a question that naturally came to my mind: "What if this was the last of its species?"
He told the Agence France-Press news agency that it's unfortunate that the locals aren't more conscious of the threatened wildlife around them.
However, the buttonquail is from a "notoriously cryptic and unobtrusive family of birds," according to the nonprofit Birdlife International, so the species may survive undetected in other regions.
A news feature about the Worcester's Buttonquail was aired in the Philippines recently by the documentary filmmaker Howie Severino, a member of the GMA Network. It was mentioned that the documentary was the first time an actual live photo of the bird was taken. The photo, with appeared only briefly in their credits, was taken in Nueva Vizcaya in northern Luzon. The photographer is Arnel Telesforo.
Sources: Christine Dell'Amore, National Geographic; Fox News; "Luzon Buttonquail," Wikipedia.
Thanks to Tom Burke for the initial heads up to this story.
Loren Coleman – has written 5489 posts on this site.
Loren Coleman no longer writes for Cryptomundo. His archived posts remain here at Cryptomundo.