Posted by: Loren Coleman on October 5th, 2007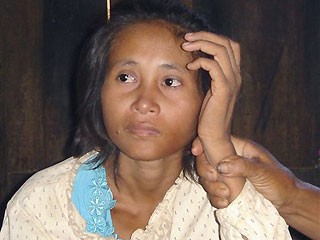 The "feral woman" said to have been seen with a hairy wild man, a Nguoi Rung, the wild forest people of Indochina, has decided she's had enough of civilization. She has escaped back into the Indochinese rainforest.
A woman who lived in the jungle for 18 years has run away from her family and returned to the wilderness ten months after being found.

Ro Cham H'pnhieng, 27, was discovered on the edge of the Cambodian jungle in January after she was caught trying to steal food left under a tree.

Despite being able to speak only three words – mother, father and stomachache – she was identified as a local village girl who had disappeared aged eight.

Her father Sa Lou had not seen her since 1989 but says he instantly recognised her from a childhood scar.

He had thought his daughter had been killed by wild animals after she went missing herding buffalo.

Earlier this year, her mother, Rochom Soy, said Ro had found it difficult adjusting to life with humans.

"Our biggest fear is that she will escape back to the jungle," she said. "She is clearly baffled by her surroundings. She hardly sleeps and mostly sits in a corner looking quickly from left and right.

"She can't speak more than a few grunts and she still walks hunched like an animal."

Mr Lou, a village policeman in Rattanakiri province, northern Cambodia, where the family live, said his daughter had tried to escape several times but relatives had always been able to stop her.

He also warned Ro may have run away to find "her wild man". When she was captured, some witnesses claimed to have seen a naked, ape-like man who managed to slip away into the undergrowth.

"This time, she has got away," said Mr Lou. "We know where she's gone – she's gone back to the jungle. Perhaps she has gone to find the wild man who was living with her.""Rescued jungle girl finally escapes and returns to the wild,"October 5, 2007, Daily Mail.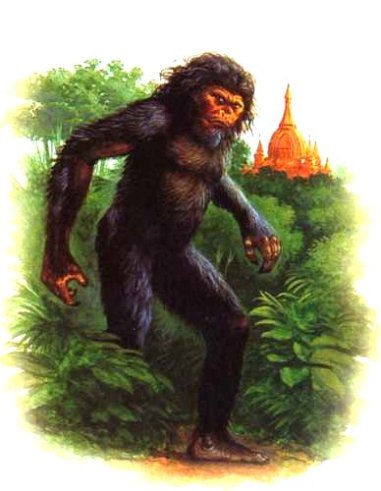 One drawing of how the Nguoi Rung reportedly shows itself to locals in Vietnam, Laos, and Cambodia (Kampuchea).
This woman was herself at first thought to be a "Forest Person," a Nguoi Rung. One individual said they had seen a "naked human being, who looked like a jungle person."
And then she was captured.
As you may recall at the time, the first descriptions noted her wildness: "She is like half-human and half-animal," said Mao San, police chief of Oyadao district in Rattanakiri province. "She's weird. She sleeps during the day and stays up at night."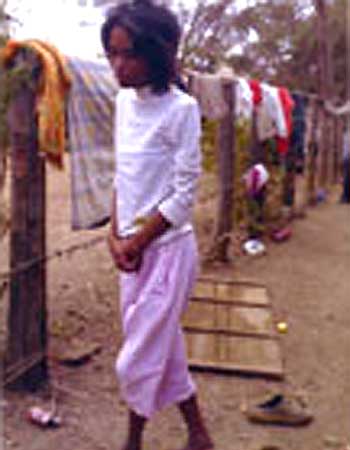 For more info on the Nguoi Rung, click here.
See also my first blog on her, as well as the followups, "Second 'Wild Person' Seen" and "Wild Man", on January 20, 2007.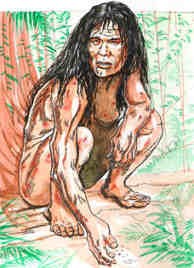 During those earlier events The Guardian for January 20, 2007, said that the "search [is] on for [a] 'feral man' as mystery deepens over woman lost in jungle."
Some "intriguing reports emerged of a mysterious naked man who had been spotted with the woman but ran off when challenged," said reporter Ian MacKinnon.
It now appears the young woman has returned to the Forest People, from whence she most recently came. The woman has escaped back into the rainforest, choosing to be with other "wild people," instead of living the life of a villager.
On some level, can't we all understand?
Loren Coleman – has written 5489 posts on this site.
Loren Coleman no longer writes for Cryptomundo. His archived posts remain here at Cryptomundo.