Posted by: Loren Coleman on June 18th, 2008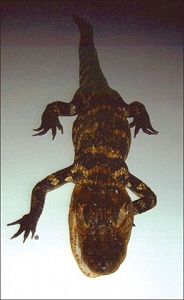 The Sheriff decided to carry the photo of the Saltville gator to show folks, because no one believed him.
More "crazy crocs" have made their way into mini-media mentions. The "crocs" is shorthand for "crocodilians," of course, and thus includes alligators, crocodiles, gharials, caimans, and kin.
Ohio
On Monday, June 16, 2008, an "urban alligator," as it was cutely called by Channel 19 Action News, was spotted resting on a south Columbus, Ohio, street, under a sports utility vehicle (SUV) owned by the Edwards family.
Police were called and they found an American alligator, about 3 1/2 feet long, next to the SUV's tire. It was captured by reptile wrangler Brice Bailey, who said it probably was someone's pet let loose when it got too big. Bailey will find the gator a good home.
Virginia
Meanwhile, on Friday, June 13, 2008, a large alligator was killed in Saltville, Virginia. Saltville Police Chief Steve Surber said wildlife officials will conduct tests on the specimen to determine where it came from.
The alligator, more than two feet in length, was accidentally killed on Highway 107, in Saltville. Jacob Daniel Ferley was headed into town when he saw the alligator "sitting right in the middle of the road." Ferley said, "It had real bright orange eyes."
Ferley said when he saw the animal, he centered his vehicle so it would pass over the 'gator without hitting it as he tried to identify what he was seeing.
"I was thinking something like 'iguana,' but we don't have those here."
As Ferley approached, the vehicle "must have scared it, and I heard a little thump," he said. He parked and walked back to the animal that was still moving. "I didn't believe what it was," he said.
"I went home and told my dad I thought I hit an alligator," Ferley said, then went back to get the alligator. He took the dying beast to on-duty Patrolman Randy Brickey, Surber said. Brickey turned over the reptile to the Smyth County Sheriff's Department where it was placed in a freezer.
"Virginia wildlife officials picked it up later Friday morning and will have it examined to try and determine where it may have originated," Surber said.
Surber said no one has reported a missing alligator, and he does not know how it got to Saltville.
Saltville Police Chief Steve Surber ran into so many skeptics who felt he was pulling their leg about this gator incident that he had to have the (above) photo close at hand to prove the encounter really happened.
Maryland
The two incidents above followed the high profile case of the capture by animal control officer Glenn Johnson, after sightings, of a two-foot caiman in the pond at the Golf center in the 1500 block of Dorsey Road, Glen Burnie, Maryland, on Friday, May 30, 2008.
The Beltway media (around Washington D. C.) played up this story a great deal, especially in conjunction with the photo taken at the time.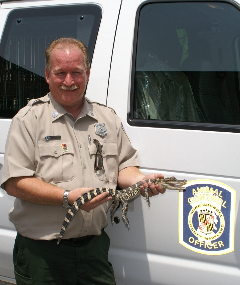 (Handout photo courtesy of Anne Arundel County Police / June 5, 2008)
Michigan
Such actual cases keep alive the rumors of giant alligators around Jackson, Michigan.
There's especially the one about the 23-foot alligator found at Sparks Foundation County Park in Jackson. State officials allegedly killed the animal last year, but the Park's officials report the current e-mail making the rounds this month is false. No such creature has existed around the Cascades. In Michigan, this park occupies 465 acres and contains the illuminated Cascades, a giant waterfall and six fountains over which water tumbles in continually changing patterns. Yes, panther sightings have occurred around Jackson, Michigan, but apparently no "crazy crocs," is the official word.
Loren Coleman – has written 5489 posts on this site.
Loren Coleman no longer writes for Cryptomundo. His archived posts remain here at Cryptomundo.